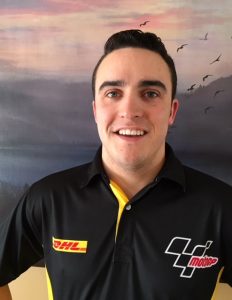 Phill Stanley is an alumnus of the Bachelor of Commerce program. He graduated from Dalhousie in 2014 with a major in Marketing Management. Phill first heard of DHL at an information session they hosted at Dalhousie in the spring of 2014. After he attended the information session and he was asked to interview for an Operations Supervisor role. After additional interviews, he was offered the role based in Langley, British Columbia.
Phill describes his experience with DHL as very positive. After starting as an Operations Supervisor in Langley, BC where he helped provide third party logistics services for Overwaitea Foods, he was given the opportunity to move to Calgary and start up a new distribution center for Cabela's Canada.
Working with Cabela's, Phill has been exposed to many different aspects of their supply chain operations, from inbound procurement, to inventory management, and outbound order fulfilment. Phill's role further expanded to involve managing highly regulated firearms and dangerous goods such as ammunition, primers, and powders. Phill says he became more involved with systems testing and continuous improvement. This eventually led him to his current role of Systems Manager where Phill is now responsible for all IT aspects of the distribution center, including systems integration, IT project management, and process improvement.
Phill went on to say that "DHL has also given me the opportunity to work with other clients that use our services. In 2016, I spent time in Memphis, Tennessee where I supported the opening of a new Nike distribution centre. This year I'm working with two new clients that are building distribution centers in Wisconsin and Pennsylvania."
When asked if he would recommend a career with DHL to current students Phill said he would and that, "DHL is growing rapidly and the amount of opportunities available within our company are increasing. Most people do not realize how much of a role DHL plays in our daily lives. Some of our clients include Shopper's Drug Mart, Shell, Smuckers, P&G, and Nike. We continue to see a trend in companies outsourcing their supply chain operations to third party logistics specialists such as DHL and this will only increase with the trend towards E-commerce. A career with DHL will provide you with the foundation of skills needed to compete in today's modern logistics industry and give you an opportunity to advance your career quickly".
Phill says the greatest benefit of working with DHL is getting to work with a company that is the largest in the logistics industry with global connections and opportunities in all areas of business. "Whether you are in accounting, finance, marketing, or engineering, DHL can provide you with a career in all of these areas. DHL has already given me the opportunity to work across North America and there are many opportunities abroad.  If you are a highly motivated, flexible, individual looking to advance your career, DHL can provide you with the opportunity to achieve this".
DHL is hosting an information session on February 8th at 6pm in the Rowe Building. Register now on myCareer.