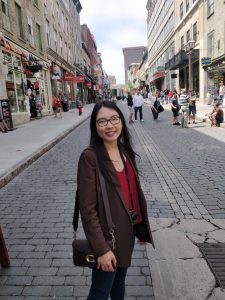 Pengpeng Jiang moved to Halifax from Tianjin, China in 2013 to attend Dalhousie. She graduated from the Bachelor of Commerce Co-op program with an Accounting major in May 2017. Pengpeng says she chose the program because she felt the co-op component would allow her to build professional connections and find a job easily after graduation.
She was also able to learn about different industries through her various co-op opportunities. "It's much easier to try different types of work through co-ops to figure out what you would like to do full-time." Her third co-op as a Project Intern for McInnes Cooper stands out – it's where she realized project-based jobs are the best fit for her.
During her job search, Pengpeng was excited to experience the cultures and people in different organizations. "When thinking about co-ops, I always thought about whether I would want to come back for a full-time job after I graduate. That way, I could learn as much as possible to get prepared," she says.
While job searching for such opportunities, she reached out to connections for support, and in the process built even more. "Prior to starting my co-op with McInnes Cooper, I'd already built connections through Management Career Services (MCS)," she says, adding that it is important to keep in touch with employers after networking events, such as with a short phone or email conversation to discuss more about the company and industry.
Pengpeng is currently working at the Office of the Auditor General of Nova Scotia as an Audit Manager. Her office deals with both financial and performance audits. "Auditing within the public sector is also a bit different than within the firms and industries so it can be interesting to explore a bit."
Pengpeng's advice for you:
Find a partner to go to networking events with to make you feel more comfortable.
Take notes and ask for clarification when you can.
Take advantage of the services and programs provided by MCS.
Don't limit your job search; explore options like company websites, LinkedIn, connections from networking events, and more.
Pronouns: she/her