myCareer: updating to serve you better
myCareer will be offline from Monday, July 8 to Friday, July 12 for a major system update. During this time, students and employers will be unable to access services on myCareer and there will be no new job postings. Job postings that would normally deadline within that period will be extended beyond the three-day update period.
In conjunction with the update, any job application documents saved to your myCareer account that are two years old or more (as of July 8, 2019), will be removed from the system during the shutdown period. It is your responsibility to retrieve any files you wish to keep in advance of that date.
We thank you for your patience and look forward to better serving you with an improved myCareer.
Students can access myCareer through the myDal portlet.

---
Did you find your own co-op/internship job? OR Are you returning to your previous work term employer?
Please follow the self-developed co-op/internship submission process by creating your work term record and completing the Job Approval Form on myCareer!
Follow the steps below or watch our Tutorial Video to learn how to submit your self-developed job for approval:
Login to myCareer, go to Management Career Services
Click on the Create My Record found under Current Job Search Term

OR

Create WTR beside your current Co-op Sequence (please be careful to select the proper work term).
Fill out the fields on the form found in the section labelled STUDENT SUBMITTED WORK TERM DETAILS
4. Click on the blue Save button to complete the process.
Once you submit the work term record, it will be reviewed by your assigned Career and Recruitment Specialist (CRS). The CRS will conduct a verification with the employer supervisor before the job is approved. After submission, details cannot be edited so should you have any changes, email them to mcs@dal.ca. Please be aware that if you create a record, but have not secured your own position you will be blocked from seeing job postings until that record has been removed from the system.  For information on how to complete your Work Term Acceptance Agreement, read our how-to blog post.
About the Job Approval (Self-Developed Job) On-line Form
In order for a position to qualify for a Commerce Co-op work term or Bachelor of Management Internship your employer must agree to: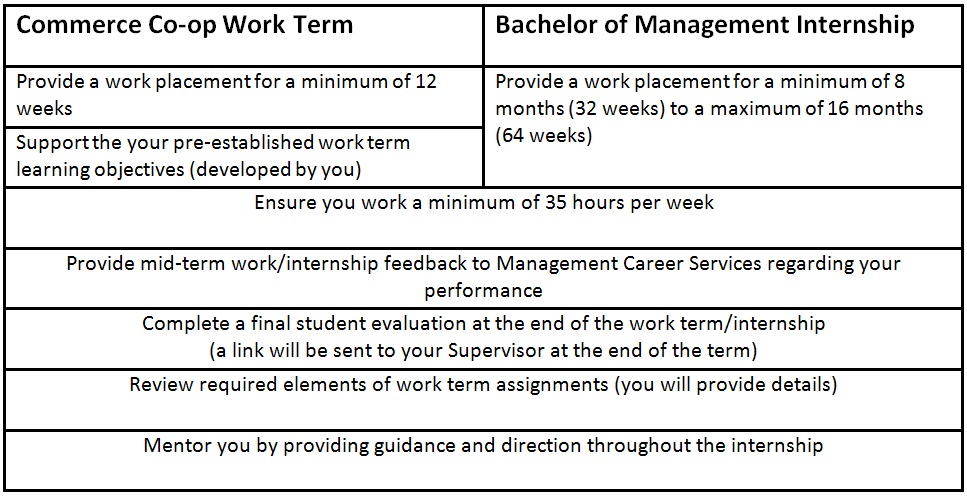 By submitting this form, you are accepting responsibility for ensuring that your employer is fully aware of, and in agreement with, these requirements.
Need Help?
Please do not hesitate to contact mcs@dal.ca if you require assistance or if you have any questions.