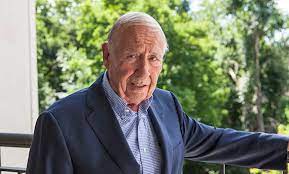 Douglas Mackay, self-described as "a simple Maritime born businessman living in Upper Canada" graduated from Dalhousie's Bachelor of Commerce program in 1953. He has had an exemplary career in investment banking and is rightfully recognized as a leader in the Canadian finance world.
After graduating from Dalhousie, he joined W.C. Pitfield & Co. as salesman and training manager, branch manager and later as a senior executive. Throughout his 50+ year career, Doug served in a number of senior executive positions and was recognized as a brilliant negotiator. He also had a major role in the team that was responsible for managing and launching some of the largest and most innovative securities ever achieved in Canada. By the time he semi-retired in 1989, he was vice-chairman and director of RBC Dominion Securities, the largest investment firm in Canada. He continued to serve as vice-president of Royal Bank Investment Management Inc. for several years after retirement.
Douglas Mackay has always been one of Dalhousie's greatest friends. With his financial contribution, a fund was established in the School of Business to support teaching and research in finance and in particular, money management. His generous financial support provided the opportunity in 1998 for the School to establish the Douglas C. Mackay Chair in Finance. Today, in addition to supporting the research initiatives of the chair holder, income generated from the Mackay Fund is used to support other activities such as student awards in money management, generous scholarship to students in our graduate programs, financial support to obtain databases that help students and faculty research, and the Douglas C. Mackay Lecture Series. Established in 1998, this lecture series provides a forum for academics, corporate executives, and other practitioners to share their research results and practical experiences with students, faculty and the broader community.
Doug holds all his endeavours to a very high standard. When he talks to us, he shows a great deal of passion for Dalhousie and often tries to lead us in a direction that improves our reputation. It is, partly due to his dedication and support that our Faculty has obtained a national and international reputation.
For all these contributions, commitment and dedication, Doug Mackay was awarded an Honorary Doctor of Laws from Dalhousie in 1993 and the Gordon Archibald Alumni Award for his outstanding contribution to Dalhousie.