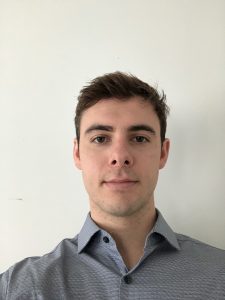 James Whytock is currently in his third year of the Bachelor of Commerce co-op program with a Finance Major. Originally from Toronto, Ontario, James was drawn to the Dalhousie Commerce program due to his ability to graduate with 12 months of work experience, making him more appealing to employers and competitive in the job market. He was also keen to join Dalhousie because of the many opportunities to expand his network and gain new experience in a province he hadn't had the chance to explore before. 
James secured his second work term at CrossWing Inc. as a Sales and Business Development Associate. CrossWing is a robotics company located in Aurora, Ontario that is leading the fight against COVID-19 in the robotics industry. CrossWing is currently in the late stages of developing a COVID-19 disinfecting robot called CleanBot. "The CleanBot: It is a fully autonomous robot that is available in two different models. The first is the CleanBot UVC, which has articulating UV light panels on the robot. The second is the CleanBot Mist, which disinfects via a hydrogen peroxide misting solution. Both models ensure 100% sanitization due to the environment/data mapping done by the four high-tech cameras, which also give it a 360-degree view.", James added. The government has funded, CrossWing to design, create and distribute these robots to businesses. James's position is to connect the company and the product with both investors and buyers, or in other words, to sell the robots. James has seen great success in this role and has had the opportunity to meet with some of the world's largest companies.  
James has gotten engagement from some of the largest companies in Canada including Walmart Canada, Honda Canada, and Scotiabank. James's day to day consists of cold calling people/organizations with the goal to inform them of the company's offerings and goals. James's role also consists of creating presentations and demonstrations that he presents to high-level individuals, often at the CEO level. He is in charge of working to gain people's interest in CrossWing's products with hopes to try and stop the spread of this virus. To promote this robot, James is in charge of creating and distributing tailored pitch packages that companies receive containing details and specs on the product.  
James found this fantastic opportunity through personal connections and set up an interview that lead to his job offer. James noted that the most important thing through the job application processes was to ensure that everything he sent out was accurate, free of errors, informative, professional and inviting.  
Since CrossWing is an essential business James has had the opportunity to work in the office every day. James mentioned that he is thankful to have the ability to work in the office (while respecting all public health guidelines) as he finds himself more productive in this professional setting.
At the end of James's last co-op, he was switched to working from home. It was interesting hearing that James finds working from an office to be more productive as he is one of few co-op students who have had the opportunity to work in an office this semester.