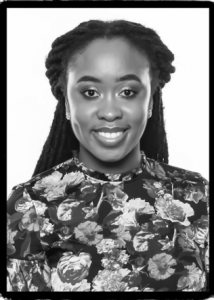 Kayler Mutyabule is an international student from Kampala, Uganda, who is currently in her third year here at Dalhousie in the Bachelor of Commerce Co-op program. Kayler is pursuing a major in Supply Chain Management and Logistics. She was intrigued by Dalhousie because of the endless opportunities that the program provided her. She saw the opportunity to graduate from an impressive school with almost a full year's worth of working experience.
Along with the Co-op opportunities, she found that the program exposed her to several different courses that broaden her understanding of the overall business world. Kayler added, "My key thoughts when starting were that, I wanted to be a part of a program where I felt was continuously growing different aspects of self, challenging my mind and skills in different fields and had a range of subjects to learn." She said she felt like the Commerce program allowed her to have the right balance between commerce electives and non-commerce electives, allowing her to explore some of her other interests.
For Kayler's first co-op, she worked in the Dean's office at the Faculty of Management as a Communications and Operations Assistant. She believes this opportunity allowed her to experience Dalhousie from the administrative lens, allowing her to interact closely with staff and appreciate the work behind faculty walls.
Kayler is currently on her second work term working with Nova Scotia Business Inc. (NSBI) in the Corporate Strategy and Research field. In this position, she feels that she is learning a lot about herself and all the essential skills needed for a corporate strategy position. The most critical skills that she has developed are being more organized and having more self-discipline and initiative. Kayler applied to this position through myCareer, was chosen for an interview, and later offered the job. When asked about the support she received during this process, Kayler added, "MCS played the important role of providing continuous support when needed, reminders to check job opportunities and providing the essential guidelines on how to make a resume stand out, how to conduct oneself in an interview and ways to be a better employee.".
In her new position, Kayler excited to be in a new environment, learn new things in different fields, sharpening her mind and skills while simultaneously challenging herself to step above and beyond expectations. "The challenges I may face are the limitations of fully experiencing the nitty-gritty of the opportunity due to the current state of the world. I say this because, as of March, while on my first co-op, I worked hard and landed several interactive opportunities that I feel could have been a booster in my career path, but unfortunately, were cancelled due to the pandemic." Kayler added.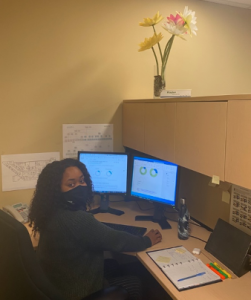 One challenge that she faces in her current work term is the limitation of connecting with her co-workers. Kayler is currently working two days online and three days in the office. "Surprisingly, it has been a good experience, as it's nice to have a change in the work environment and to have available all the resources that I need to get the job done. It has been a significant learning point to be able to work independently, conduct myself professionally while getting the job done even when not in the office space." Kayler added.
Kayler's advice:
"COVID-19, has been extremely challenging mentally, physically and emotionally. Some days are better than others, and I understand that it has been difficult, but I choose to focus on the positives that it brought as well. I have found a great appreciation for the things we take advantage of in life, a reminder to live your life authentically to yourself and always be grateful. I would advise other students to know that I sympathize with their hardships of navigating the 'new normal,' to be introspective and pay attention to their mental health through these challenging times. I would encourage them to relentlessly never give up on their dreams/goals, even when things are tough. And lastly, to not just fight for a seat at the table, but to work even harder with the determination to create your own table."
Connect with Kayler on LinkedIn at: www.linkedin.com/in/kaylermutyabule