Once your job posting has reached its deadline, you will receive an email notification that the posting has closed. You can then review your applications by following these steps:
Log in to myCareer: http://mycareer.dal.ca/login/employer.htm
Click on Management Career Services in the menu bar.
Click on either the Job Posting menu option or the Job Postings & Applications dashboard icon.
You will see a list of job postings which you can sort by any category shown in the top row. The default display shows your current job postings. To see a list of all job postings, click the red X beside the "Current Job Postings filter" that appears below the Saved Filters option.
To review the applications for a specific job posting, click on the View button beside it, and select to open the page in either the Current Tab of your browser window, or a New Tab.
On the next screen, click on the Applications tab to see an overview of your applications. You can use the red and green filter buttons that appear below the Overview button to filter applicants according to whether or not they are available for hire.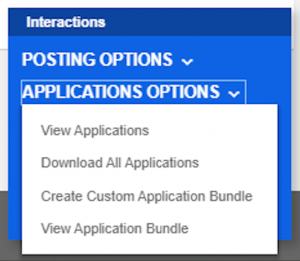 You can then review applications in the following ways:
View all applications submitted: Click on the blue circle icon in the bottom right corner, select Applications Options, then select Download All Applications
View select applications as a bundle: select the specific applications you wish to review by clicking the check box to the left of the student's name. Then select Create Custom Application Bundle from the Applications Options menu after clicking the blue circle icon in the bottom right corner, and then click Create an Application Bundle on the following page. Then click the Back To button above the job posting ID and select applications, which will take you back to the applications tab and then click on the blue circle icon in the bottom right corner and select Applications options. From there select View Application Bundle. You will then click the Options button to select either Download Bundle (as a PDF), Quick Preview, or Email Package. If you select Email Package, you will be able to enter the email addresses of the recipients and adjust the email body text that will appear, should you need to, before clicking Email Package to send.
View each application one at a time: click the Options button next to the Student Username and choose either Download Package or Quick Preview.
After you have reviewed all applications, you are now ready to set up interviews.
***
For other myCareer tutorials, consult our Employer User Guide.