On October 24, 2014, students, non-profit supervisors, and corporate mentors and sponsors gathered together to wrap-up another successful year for Dalhousie University's National Mentoring Program.  To see more photos from the event, visit the Facebook album.
Once again, program participants demonstrated how corporate social responsibility can be put into action, create meaningful change and positively impact the community. Six students spent their summer working for non-profit organizations thanks to the generous support and corporate mentorship of our program sponsors:
Thanks to these partnerships, the result was not only an enhanced experiential education for our student participants, but significant and meaningful acts of corporate social responsibility, and the development of important projects with community focus and impact.
 Discover what the NMP experience meant to all of our 2014 participants
Looking ahead to 2015, we are excited to announce that the National Mentoring Program will undergo a name change to better reflect the true spirit and values of the program. The program will now be referred to as:
C3 Mentoring Program: Corporate Community Connectors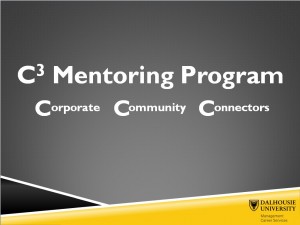 Interested in getting involved in future C3 Mentoring Program opportunities? Students looking to apply for C3 Mentoring Program work terms can find more information on the MCS website here. Corporations looking to put corporate social responsibility into action through theC3 Mentoring Program can find more information on the MCS website here.