When it comes to figuring out what to wear on the job, sometimes it's not clear what is meant by the terms "Business Professional", "Business Casual", or "Casual Friday".  Every workplace is a bit different, but there are certain standards you can apply to safely determine what will look appropriate. A professional presentation (appropriate dress and grooming practices) can help you gain acceptance. If you're not sure what the dress code is for your workplace, your best bet to ensure a positive first impression is to show up on the first day wearing a business professional outfit. Then, once you arrive, scope out the office environment, and have an opportunity to ask an experienced colleague or your supervisor, you can find out what the expectation will be on a day-to-day basis.
Many students wonder if they should dress up for the employer information sessions and recruiting events we host on campus. The short answer: absolutely. Help the employer envision you as a candidate and future colleague by dressing in business professional attire to distinguish yourself as someone who deserves to be seriously considered.
Some general tips to keep in mind:
Be cautious of bright / distracting colors & patterns.
Avoid see-through materials.
Shirts and pants should always be pressed with no
wrinkles.
Keep your professional dress shoes shined and in good
repair.
Avoid running shoes.
Here are some guidelines to help you tell the difference between different workplace dress codes.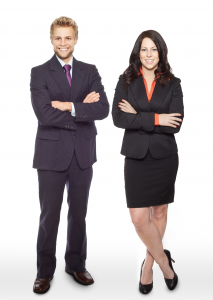 Business Professional
Men:
Dark suits (navy blue, black, or grey) and conservative ties
Solid-colored, button-front shirts with collars underneath suit jacket
Professional shoes; shined and in good repair, brown or black shoes to compliment your suit color
Women
Pant/skirt suit or dress-suit; dark colors (navy blue, black, or grey)
Collared blouses may be worn in various colors
Professional, closed-toe heels or flats, (heels should be 3 inches or less)
Skirts, shirts and dresses should not be short or tight fitting
Business Casual
Men:
Suit jackets and ties are not necessary
Plain-colored, collared shirts, cardigans or sweater-vests in a wide range of colors are generally accepted
Cotton pants, professional khakis, or suit pants may be worn
Professional shoes, shined and   in good repair, brown or black to compliment your casual yet   professional look
Women
Suit jackets are not necessary
Dresses, cardigans, sweaters and blouses are acceptable
Suit pants, cotton skirts, dresses or pants can be worn
Professional closed-toe heels or flats, (heels should be 3 inches or less)
Skirts, shirts and dresses should not be short or tight fitting
 Casual Friday
Men:
Jeans, khakis, corduroy pants, etc. are acceptable
Plain or plaid shirts, golf/polo shirts and company shirts are all acceptable
Loafers are acceptable; avoid sneakers/runners and refrain from wearing shoes that have holes and are dirty or raggedy
Sweat pants and shorts are not appropriate
Women:
Jeans, khaki pants, skirts, capri pants and dresses are all acceptable
Blouses, t-shirts, sweaters, cardigans, and company shirts are all acceptable
If you are going to wear leggings, ensure they are made of thick material and worn with a long top reaching at least to your hips