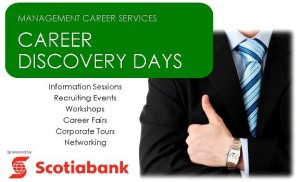 Explore potential career paths
Advance your knowledge of the Canadian job market
Improve career development skills
Secure post-graduation employment
Participate in Career Discovery Days
Running throughout September and October, Career Discovery Days includes employer information and recruiting sessions, networking events, career fairs and workshops.
This is the time of year that top Canadian employers are on campus, so keep an eye on the myCareer events calendar and learn more about prospective career opportunities.
JOB SEEKERS:
There are now over 76 full-time job postings for graduating students. Check out what is listed on the Career Services Centre tab of myCareer.
There are now over 30 winter co-op job postings for Commerce students. Check out what is listed on the Management Career Services tab of myCareer.
Management Career Services thanks Scotiabank for their sponsorship of Career Discovery Days.