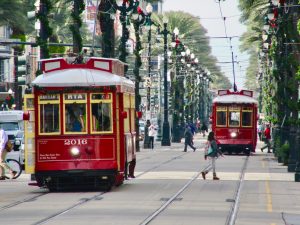 The American Geophysical Union Fall Meeting is the largest Earth and space science meeting in the world and was held in New Orleans, Louisiana this year. As first-time attendees, Kara Vogler and I (Gavin McNamara) were slightly overwhelmed by the busy schedule (over 20'000 oral and poster presentations) for the 5-day meeting.
At any one time, there were dozens of presentations covering a wide variety of topics ranging anywhere from inner earth processes, to climate science, to planetary geology. The most intriguing oral presentation that I attended during these five days was about the ethical and scientific complications of geo-engineering. Heated debate ensued regarding the moral implications of controlling our climate through injecting aerosols into the stratosphere or producing clouds over the ocean to increase albedo.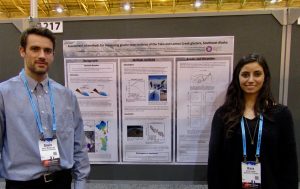 Assessment of methods for measuring glacier mass balance of the Taku and Lemon Creek glaciers, Southeast Alaska (PDF – 21 Mb)
Kara and I attended AGU to present the glacier research we took part in this past summer with the Juneau Icefield Research Program (JIRP). Our project was focused upon continuing the longest running study of any glacier in the Western hemisphere. We did this through digging 30 pits scattered throughout the Juneau Icefield in order to determine the amount of snow gained in the previous year's snowfall. In combination with data reflecting the glacial ice loss, we calculated the mass of glacial ice lost or gained for the entire year. This is called the glaciological method, which we wanted to compare to data collected by NASA's Gravity Recovery and Climate Experiment (GRACE). The GRACE data is collected by a pair of orbiting satellites that are able to detect changes in the mass of Earth's surface (ie glacial ice gain or loss). We found that these two methods had a significant correlation, although the GRACE data is representative of a larger area than the glaciological data.
We presented our assessment of these methods in the form of a poster at AGU. This convention was a fantastic way to get an idea as to the diversity of research occurring in Earth sciences and to chat with masters and PhD students and professors and researchers from around the world. We also made sure to take advantage of the incredible live music and delicious food the Crescent City had to offer!