Save the Date
CEGE is heading to Vancouver!
The planning has begun!  Martine Durier-Copp will be in Vancouver next month and we welcome all MBA FS, MBA L, MPA(M), MIM students, alumni, friends of Dalhousie and their guest to join her for a cocktail reception on November 14, 2019.
Thursday, November 14,  2019
5:30 – 7:00 p.m.
Location: Metropolitan Hotel, Diva at the Met
645 Howe Street, Vancouver

This is a great opportunity to reconnect with your Dal peers, build new relationships and to catch up with what is happening at Dalhousie, the faculty and the programs.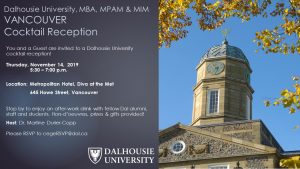 Are you celebrating an anniversary?  When we recognize milestones, we are reminded of the robust ties that bind our alumni community through the years
A special shout out to the Class of 1999 commemorating their 20th Anniversary, the Class of 2004 their 15th Anniversary, the Class of 2009 their 10th Anniversary, the Class of 2014 their 5th anniversary, and the newest member of the Alumni family, the class of 2019 – come celebrate with Dalhousie!!
Let's stay connected. Follow us on Instagram:  @instacege #cegeconnection