Former oil patch engineer Patrick Law discovers new pathways with Dal MBA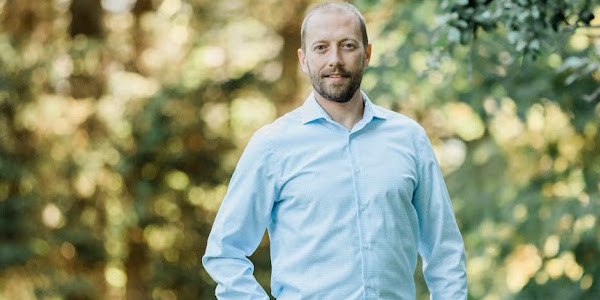 In 2016, Patrick Law was a chemical engineer working in the oil and gas sector in Alberta, specializing in process team leadership for projects with Cenovus Energy, Devon Energy and the Athabasca Oil Corporation. Yet despite his hard work and success in this field over 13 years, focusing mostly on water treatment, one day he found himself looking out the window of his Calgary office at the other tall buildings and wondering whether there were any steps he could take to further his career while also making more time for his three children. An MBA might make the difference.
On the road
As he was contemplating different program options, Patrick acquired an A-class motorhome and took his family on a trip across Canada, from Vancouver to Newfoundland, and then down through the United States. After six or seven months on the road, he decided to settle down in Prince Edward Island. He'd also settled on an MBA program, choosing Dalhousie for its international reputation and the fact that the online courses meant that he had the flexibility to continue to travel.
Patrick says he most enjoyed the assignments in his International Business courses, as well as the Advanced Corporate Finance taught by Rick Nason. "All of these courses helped in my career, or rather destroyed my career, because I realized there are so many more options out there than the small world I was in," he says. Starting the program in 2018, Patrick took a course each semester and ultimately focused on finance and leadership. During the early part of the pandemic, he and his family lived for a time in southern Spain, where he particularly appreciated the ability to learn from anywhere.
A golden balance
Patrick also enjoyed learning with a cohort, especially the different levels of experience that were represented. "I rubbed shoulders with people that were in the upper echelon of business, and those who were not. And that balance was golden. It broke down that class structure that you usually see in business," he says.
Now that he's graduated from the program, Patrick is contemplating his next move, likely into entrepreneurship. He already pays the bills through his investments. In the meantime, he has a few pieces of advice for those who would choose his pathway. Among them is leaning into the experience. "Don't be shy in telling your professors of the valid and on-topic experiences you have had in business that either ratify or contradict prevailing business teachings," says Patrick.
He also suggests seeking out interactions with classmates outside your industry to stretch your mind even further. "Respectfully compare experiential similarities and differences. Cross-pollination of ideas is equal to innovation in this grad school program," he adds. "Keeping up with the readings, engaging intellectually with professors, being creative and getting to know your professors through office hours and other avenues are also important."