"I had the wonderful opportunity to visit with students at the Toronto intensive this spring.  It is great to put faces to names and to see firsthand the application of the key concepts and theories they have been introduced to throughout the term."
Michelle Hunter, Associate Director (Administration)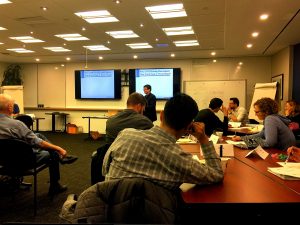 Spring Intensive – Photo Credit: Michelle Hunter
Summers at the Centre for Executive and Graduate Education are eventful.  August is "Intensive Season," a much-anticipated end-of term culmination of the blended/online learning courses offered by Dalhousie's Centre for Executive and Graduate Education (CEGE).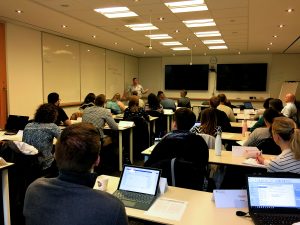 Spring Intensive – Photo Credit: Michelle Hunter
The Centre for Graduate and Executive Education is focused on presenting research that is relevant within the workplace.  Blended/online learning has the advantage of asynchronous education resources including readings, videos, discussion posts, blogs and audio files. In the months leading up to the Intensives, students share and connect with colleagues and professors via Live Classroom, tutorials, Collaborate, Adobe Connect and Skype sessions. The high point occurs when students meet for a three-to-five-day intensive review session at the end of each term.  This is where learning comes alive and research can be applied and integrated within real-world experiences and chosen professions.  The weeks of studies and personal exploration culminates and solidifies into scholarship.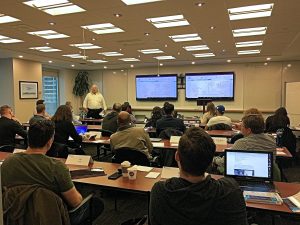 Spring Intensive – Photo Credit: Michelle Hunter
Michelle Hunter:
I had the wonderful opportunity to visit with students at the Toronto intensive this spring.  It is great to put faces to names and to see firsthand the application of the key concepts and theories they have been introduced to throughout the term.  I was delighted to see new and returning students building important professional and academic networks during the intensive sessions; for many, these connections will continue to grow long after they complete the program.
I look forward to welcoming students to campus this summer; and witnessing the learning come to life and the bonds foster.   Over 300 students will participate in the summer intensives offered through the Centre for Graduate and Executive Education programs: MBA Financial Services / Leadership, Master of Public Administration (Management) and Master of Information Management. Courses range from Strategic Leadership & Change, Management Skills Development, Leading in Context,  Management Information Systems,  Human Resource Management, to Global Markets & Institutions, Program Evaluation, Information Policy, and Project Management.
Welcome to the 2019 Summer Intensive Season!
Michelle Hunter