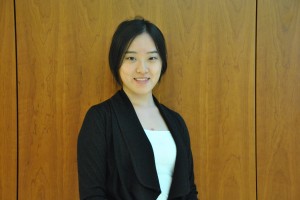 Yiran Chen is a second year Commerce student who recently secured her first co-op work term in Halifax with Ernst & Young. From the time she began her first year at Dalhousie, Yiran has been dedicated to developing her professional skills by participating in career workshops and information sessions. She believes that taking this initiative can make the job search process easier and more successful:
"Never hesitate to ask for advice from senior students, your professors, mentors, and advisors at MCS. The earlier you start asking them questions, the more you'll learn, and the better you will be prepared for the job search."
Yiran is also making the most of the opportunities Management Career Services offers students who are preparing for their job search. For example: Yiran attended an Ernst & Young information session where she gained insight into the company before applying for their co-op position. She then used the advice and knowledge she took away from the information session to help her build a strong application and eventually secure a position with Ernst & Young:
"MCS is very useful and helpful. I recommend you take advantage of their resources from day one. I learned almost everything about the business world (such as appropriate business attire), from workshops held by MCS. Attending events and info sessions is the best way to learn about employers and to show them your initiative."
Yiran shares her advice for both first-year and international students on how to become confident with their career development and co-op job search:
"Don't be terrified to show up at an info session when you are a first year student. Just be present in the room and listen, see how other students ask questions and network with employers. You will get used to it and learn how to do employer research and ask smart questions, which is much easier than learning all those things while under the pressure of job searching. "
For information on upcoming MCS events, visit the events calendar on myCareer.