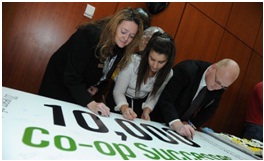 Twenty years ago, Dalhousie's School of Business introduced a mandatory co-op program where each student would require three work term completions to graduate. Now, 10,000 co-op success stories later, the decision proved to be a good one. On Thursday, Nov. 24, faculty, staff, employer partners and students gathered at the Rowe Management Building to celebrate 10,000 successful co-op graduates from Dalhousie's Faculty of Management.
Finding the right fit
The appreciation for the co-op program runs both ways according to employer partners, some of whom have been involved in the program for over ten years."The quality of students that come from Dal's co-op program is second to none," says employer partner Bruce Rutherford, senior account manager with HSBC Bank of Canada. "All my staff were once co-op students and I'm happy to give back to the program any way I can."
"Work terms give employers the chance to see if an employee will be a good fit in the organization," explains Michelle Callaghan, senior manager, audit at KPMG who supervised Ms. Baker. "In Veronica's case, there's no doubt she'd be a great employee because she's basically been on a four month interview."
The decision to incorporate three mandatory work terms was the brainchild of former management professor John Parker and former director of the School of Business Ray Klapstein. They felt it was important to give every student the opportunity to gain at least one year of professional experience before graduating, explains Melvina Jones in Management Career Services. "With three co-ops, you could work one term in accounting, the next in marketing, and the last in finance," she says. "It's a great way for students to find out what they do and do not like."
"Reaching the 10,000 milestone is a testament to the value of the co-op program to both our students and their employers," says Anna Cranston, director of Management Career Services. "Our graduates leave Dal with one year of work experience and a good number of connections to help them be very competitive on the graduate job market."
Real-life lessons
Veronica Baker, a fourth-year commerce student, completed her first work term at the accounting firm KMPG and her second two at Emera. She says graduating with a year's worth of professional experience allows students to draw on real-life examples during class discussions and network with colleagues in similar industries.
"There were times while working at KPMG that I spoke with students working towards their CA (chartered accountant) designation," she says. "I was able to learn so much more about the specific process than what is taught in school – it was great to speak with someone going through something I was working towards." There were also a few surprises along the way. "Before I started working, I never realized how much soft skills are valued in the workplace," she says. "I'm a pretty positive person and I didn't know that would be appreciated in the work place and just being yourself is how you truly shine." After graduation, Ms. Baker will work towards her CA designation at KPMG Halifax, an opportunity that stemmed from her first work term.
Jason Wong, a fourth-year commerce student, completed his most recent co-op with Make-A-Wish Foundation, Atlantic Provinces. He agrees that work terms let students apply classroom lessons with workplace situations and says the opportunities that come from working at a particular place are sometimes invaluable. "After graduation, we might all know what a supply and demand curve is, but learning how to use it to maximize growth and efficiency is equally as important," he says.
While working with Make-A-Wish, Mr. Wong helped raise over $800,000 for the foundation and direct a public service announcement that was shown in theatres across Atlantic Canada – not to mention the chance to meet some exceptional people."If it hadn't been for my work term, I would never have gotten the opportunity to meet some of the inspirational 'Wish' families and hear their stories of bravery, strength, and courage."