Originally from the s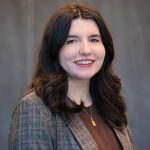 mall town of North Gower, Ontario, Ainsley Wallace is a third-year Bachelor of Commerce Co-op student, majoring in Marketing. Ainsley recalls being taught in high school the importance of having "something extra" to stand out from the crowd when entering the workforce and felt the mandatory co-op element of Dal's Commerce program was the ideal way to do this.
For her first co-op, as Marketing and Events Assistant at not-for-profit organization Skills Canada Nova Scotia Association, Ainsley was involved with organizing competitions at NSCC campuses across the province. "There were long days but coming together at the end and celebrating the achievement together with my team was one of the highlights of my co-op." As Project Coordinator at Digital Nova Scotia during her second co-op, she helped small businesses grow through the organization's tourism digital assistance program. Ainsley shares what she has observed to be the biggest strength of working in the not-for-profit sector. "You develop close personal relationships with your co-workers, which can be especially helpful as a co-op student because you become more confident with seeking help or advice from your coworkers."
Ainsley shares that during her job search, she learned and continues to learn strategies to help with the anxiety and nerves that, for many students, comes along with doing job interviews. "I've found that reaching out to my CRS for practice interviews or advice from past co-op coworkers has been extremely helpful." She shares that once she worked with her CRS to review her documents, she noticed an increase in the number of interviews she was securing compared to previous semesters.
This summer, Ainsley is completing her third and final co-op as a Marketing and Business Growth Intern with En Point. In 2022, she completed her first co-op with Skills Canada Nova Scotia Association, and her second co-op with Digital Nova Scotia, and was nominated for Dalhousie's 2022 Top Co-op Student of the Year for the Faculty of Management, not once, but twice, by both of her supervisors. "It's a great feeling to know that while I'm gaining experience during my co-ops, I'm also providing value. As a co-op student, there's nothing you want more than to impress your employer and leave a good impression," she says. "I feel very proud that I've accomplished that goal in both of my previous positions. I'm so grateful that I've had such amazing employers who have recognized my hard work and supported me."