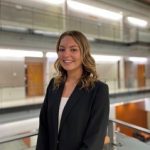 "Growing up in Guelph, Ontario, I knew I wanted a change of scenery for university, preferably in a province that was situated around water," says Hannah Boyd, a fourth-year Bachelor of Commerce Co-op student majoring in Accounting. Hannah was drawn to Dal's Commerce program because of the opportunity to gain 12 months of work experience during a four-year degree. "After I came out to tour the campus and the city, I was immediately drawn to the amazing atmosphere, as well as the beautiful landscape that Dalhousie is situated on. With the ocean only being a five-minute walk from campus, it was a no brainer, and I was immediately sold!"
Hannah had the opportunity to work for Fidelity Investments in Toronto for her first and second co-ops, and EY in Montreal for her third. "When reflecting back on my co-ops I feel very proud that I was able to land three amazing jobs at very credible and highly well-known companies during a global pandemic." At Fidelity Investments she helped the Retirement Savings Plan team during their busiest season to date. At EY she worked alongside partners with one of their biggest clients, externally auditing financial statements.
During her second co-op at Fidelity Investments while working with the Sales Advisor team, she was assigned to organize an event for clients, a project she was very proud to lead. As it was close to the holiday season, Hannah arranged a virtual cookie decorating class with a local bakery in Toronto, allowing clients the opportunity to participate with their children. Afterward, she was able to meet and network with some of the clients.
With working from home for all three co-ops, Hannah shares that it was more difficult to partake in projects that her employers typically assigned to students. Nonetheless, her passion for learning and networking helped her make invaluable connections, benefitting her professional career. During her co-op with the Advisor Sales team, Hannah was tasked to support five different wholesale teams within five different geographical areas, helping plan events for the Women Leadership Group at Fidelity. "With supporting five different teams, it was crucial to stay on top of the tasks, as well as stay extremely organized when it came to receiving emails and planning calls throughout the week. Moving forward, this will carry on throughout my career and having built these organizational habits now will only benefit me further on."
When Hannah arrived at Dalhousie, she made it a priority to familiarize herself with new people and remain open-minded to new opportunities. "I wanted to get involved with as many societies and extra-curriculars as possible to not only boost my resume, but to meet like-minded individuals that are equally as driven as I am." She has assumed an executive role on the Women in Business Association, participated in the Dalhousie Investment Society, and in pursuit of honing her presentation skills, tried her hand at competing in case competitions. When heading into her final year of study, she was inspired to run for president of a society where she could plan events that would benefit the student community. She chose to pursue this within the Sales Society, as she had previously been involved wanted to take on a larger role.
"The Sales Society was started last year by two students who had a passion for bridging the sales industry and the classroom by providing insightful events to students who aren't familiar with the opportunities that Sales can provide," she says. "As I am entering into a full-time sales position starting this September, I was excited to become President of this society for the 2022-23 academic year. What I have learned throughout this experience is to listen to your members and plan events that appeal to the want of the student community. Through posting polls and questionnaires, I have tried to plan events that fit with what they will benefit most from to get the best turnout possible."