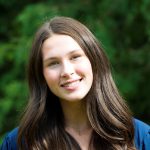 Celia Innes is a third-year Bachelor of Commerce Co-op student, majoring in Marketing. Originally from a small town outside Ottawa, she knew she wanted to attend post-secondary school in a city that was not too overwhelming, and Halifax was just the right size. "I really wanted to go to Dalhousie because of the impressive Commerce program with integrated co-ops. That really caught my eye because it was an opportunity that I saw uniquely at Dal."
Celia completed her most recent co-op as a Marketing Co-op Coordinator at OraSure Technologies. Located in Ottawa, OraSure is a biotechnology company focused on diagnostics, testing, sampling tools, and services analysis to understand customer DNA, diagnosing patients, and connecting them to support and treatment. In this role she had the opportunity to work with seven other women on a series of exciting projects, such as helping to organize the company's presence at the American Society of Human Genetics trade show, the largest human genomics trade show in the United States, along with many other trade shows. "I developed a strong knowledge of digital marketing platforms such as HubSpot, Salesforce, Pardot, and more. Overall, I truly felt as though I learned an extensive amount about marketing tools from my experience," she says.
Celia secured her co-op with OraSure through a self-developed job search. When asked about her approach to narrowing down companies to reach out to, she shares that she was determined to do a co-op at a company where she truly cared about the work they were doing. Celia also wanted to immerse herself in a new field she had little experience with, taking advantage of new opportunities and fresh perspective from her surroundings. She knew she wanted to learn more about digital marketing, and in an organization with a strong workplace culture.
Once she had a clear idea of the type of co-op she was looking for, Celia honed her networking skills. "I networked with every person I could and really immersed myself with looking deep into the companies they worked for. I soon realized that anywhere can be a networking opportunity. I networked with family friends, family members, and previous employers. I would send them emails or LinkedIn messages asking about their company and if there would be any co-op opportunities," she says. "Finding a co-op can be intimidating because all your friends are talking about it, you're typically on a bit of a time crunch, it's very competitive, and you're in the deep end of your school semester while trying to figure all of this out. One thing that co-op students should keep in mind is that the job has to be a match for you too. Apply for the jobs you want with confidence, and don't sell yourself short."
Celia is currently completing a semester abroad in Paris, which, like Halifax, is a city she has found a new love for.