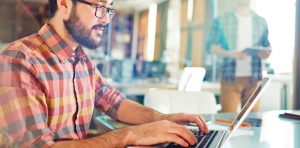 It's no secret there's a wealth of emerging talent right here at Dalhousie. Our students are high achievers. They're innovative thinkers. They're driven and excited to make an impact in the professional world. We see the excellent work they do in the classroom and in their extracurricular activities. Why not take the next step and provide them opportunities to apply their growing business knowledge on your team?
Hiring a Dalhousie business student not only supports the student in their professional growth, but as their employer, you benefit from the skills and perspective they bring to your team. Here are five reasons to consider hiring Dalhousie business students for a four-month co-op, 8-month internship, or an 8-month corporate residency.
Show your Dal pride
Dalhousie students are the reason we come to work every day. They're the reason we're here, and who we're all working to support, directly or indirectly. Hiring a student on your own team is one way to support our students on a deeper level.
Giving our students valuable, real-life work experiences is an important part of preparing them for their future alongside their coursework. For service and support units that do not engage directly with students, hiring them is a great way to do so. It not only provides students with good practical experience, but they also bring valuable support to the units.

– Susan Robertson, Assistant Vice-President, Financial Services
They know the university
There's a learning curve when any new employee joins a team; it takes time to get to know their new organization. However, for Dalhousie business students, they already know their employer. They know the school and many of the faculties and teams within it.
In the Recruitment and Admissions departments of the Registrar's Office, we have benefitted greatly from hiring business students. The students' familiarity with campus and the processes of applying to Dalhousie make them particularly well-suited to help prospective students as they move through the journey from application to arrival. Having experienced the enrolment pathway to Dalhousie and also having first-hand knowledge of the student experience, students are easily onboarded and arrive on the job with an abundance of context and knowledge that helps them to get up to speed on tasks quickly.

– Ann MacDonald, Associate Director, Admissions
High calibre students through all levels (undergrad and grad) with broad and transferrable skills
Business students are learning broadly at undergraduate and graduate levels, growing skills that translate to a wide range of work and tasks. Just a few of the areas of focus for their studies include accounting, finance, marketing, entrepreneurship & innovation, international business, and managing people and organization.
I've had the privilege of working with Dalhousie's Commerce Co-op students for the 11 years that I've worked in the Faculty of Management Dean's Office. I see students grow throughout their terms, sometimes going from never having worked in an office environment to leading projects and making recommendations to improve our processes. I rely on them for valuable insight about the student experience and how to best reach our audiences. Several of them have kept in touch with us as they've moved into the next stages of their careers, and it's always great to see how they are flourishing and believe their experience with us might have contributed to it.

– Nicole Maunsell, Communications Manager, Faculty of Management
New supervisors and junior employers can gain experience supervising students
Co-ops, internships, and corporate residencies are great opportunities for staff who are new to supervisory roles to gain experience on a short-term basis.
We have hired Dalhousie business students for each of the last two academic terms and it has been a wonderful experience! It is an honour to contribute to student learning and career development. The two international co-op students we hired brought fresh perspectives, valued student views and inputs, enthusiasm to positively contribute, and dedication to success. Providing employment opportunities for today's youth is important for all of us!

– Angela McKinnon, Former Program Manager, International Student Support Team
Supplemental work for short-term projects and extra support during busy times
If there's a new project your team is working on that has a designated end date, or if there are times of the year you know you'll be particularly busy, students can provide focused additional support.
The Talent Management team in Human Resources was interested in a better understanding of labour market trends, a current state analysis of employment at Dalhousie, and further feedback from community partners on recruitment practices. We thought this would be a great learning opportunity for a student interested in such work, while at the same time, providing the team much needed support to get this important work done. Our co-op student met with key stakeholders virtually, conducted detailed research, and delivered a comprehensive report back to HR. We highly recommend hiring a business student and we are happy that we did so ourselves!

– Angela MacMaster, Manager of Talent Management, Human Resources
Wondering how to get started? Contact Management Career Services to learn more about our talent pool and funding opportunities.

Interested in hiring students from other faculties? Contact: