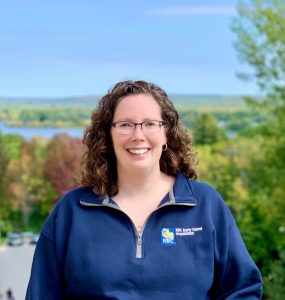 For some business and organizations, supporting students and recent graduates is a no brainer. It's deeply ingrained in how their business is run, in their values, and in their long-term planning. Recently, Dalhousie Management Career Services (MCS) spoke with an experienced employer who understands the value students can bring to a business both in the short and long term.
Krista Martin is a Senior Recruiter for Early Talent Acquisition, Personal & Commercial Banking (Atlantic Region & National Office) at RBC, one of the largest banks in Canada. In addition to hiring and supporting student talent, RBC is known for their Future Launch initiative, which provides resources and tools to help young professionals grow and develop their careers.
RBC has been an active employer of Dalhousie business students through MCS for many years, particularly in the Corporate Residency MBA program since its inception. "Students are the future employees, leaders, and CEOs of organizations," Krista says. "They bring energy, technical skills, and new ideas, and they want to make a difference." In general, supporting student talent is integral at RBC. In fact, its current CEO was initially hired as a co-op student in the 1980s.
Through her time working in recruitment at RBC, Krista has seen a vast array of student talent pass through their doors. "Every student we hire brings something different to the table. Their curiosity, eagerness to learn, desire to be part of the team, and willingness to jump in are what stands out," she says. "I see them going through their learning plans, asking questions of their mentors, having one-on-one meetings with their managers, volunteering with their teams, meeting other employees at lunch – it's such a privilege to watch the evolution and see many of them return as full-time employees!"
Hiring students is a win-win situation: students gain experience, organizations gain access to new skilled talent. But Krista also believes there are more and deeper benefits to hiring students. "Being open to providing an opportunity for a student helps the organization and those around them grow as well," she says. "Understanding what they are learning now, how we can adapt as organizations to new technologies, modifying process, and understanding what is important to young people will help to keep you and your organization relevant for the future."
Based on Krista's experiences working with students, hiring them for co-ops, internships, or corporate residencies is a highly recommended practice. "Students are hungry for opportunity to put their learning into practice and embrace the professional world. Their desire to contribute to the organization is forefront, and it's a great way for the organization to learn from them as well."
Interested in hiring a student or learning about funding programs? Contact our Employer Development team:
Ayse Dai-Gammon, Employer Development Manager
Ayse.Gammon@dal.ca
902-220-2237
Cindy Ryan, Employer Development Coordinator – NS
Cindy.Ryan@dal.ca
902-219-2548
John Mitri, Employer Development Coordinator – GTA
John.Mitri@dal.ca
647-575-5717