Originally from Vancouver, B.C., Taryn Faliszewski will be graduating this May from the Bachelor of Management program, majoring in Management in Globalization. After attending school as a marketing student in Vancouver, Taryn decided to transfer to Dal because of its "unique program, internship option and variety of business clubs on campus, including case competitions."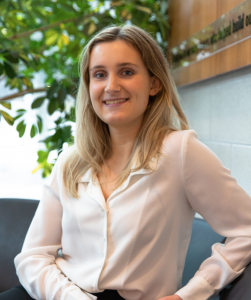 Taryn took advantage of the internship option and secured remote employment with En Point as a Marketing and Business Growth employee. En Point is a company based in Halifax that supports young adults in starting their professional careers, encouraging individuals to focus on their passion. "The En Point Mentorship platform harnesses the power of mentorship in an easy-to-use, cloud-based tool designed to help create structured, but meaningful relationships."
As COVID-19 presented numerous new challenges in the middle of one of the busiest job searching times of the year, Management Career Services worked diligently to find new remote opportunities for students. Regardless, Taryn knew she was going to have to get creative in her job search. "To do this, I leveraged my connections on LinkedIn and reached out to some local companies."  She enjoyed working remotely as it allowed her to jump straight into tasks and begin her morning swiftly, as opposed to the normal routine and commute that comes along with getting ready for work in the morning. Taryn has adopted new habits to ensure she remains focused throughout the day. "Sometimes it's difficult separating work and play since I work from my bedroom, but keeping a clean workspace definitely helps!" she says.
Taryn is excited about the future and everything she will be able to carry forward from her internship with En Point. When asked what some of her future goals were, she replied, "working on my skills to apply for jobs post-grad and really leverage my connections so I can be prepared for when I get there, find a career that suits me, and be able to travel and work remotely!"
Taryn's advice for you:
Always reach out! Never be afraid to ask questions. You never know who you are going to meet, or what companies you are going to find.  It took me some time to get this down, but it really helped me get out of my comfort zone when contacting potential employers.
Keep your phone away from your desk and work out a daily schedule.
Plan what you are going to do a week ahead and create rewards for when you get there.
Pronouns: She/Her