Kelsey Prevost is in her fourth year of the Bachelor of Management program, majoring in Public Sector Management. Growing up in Halifax, Kelsey often attended events and sports games at Dalhousie, allowing her to become familiar with the campus from a young age.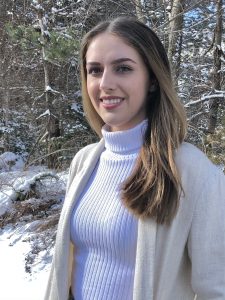 When it came time to attend university to pursue her undergrad, she was interested in the Bachelor of Management program because of the option to major in Public Sector Management. She enjoyed the educational diversity Dal offered. "I have always had an interest in politics, but I knew a business degree would give me a better skillset and opportunities for jobs once I graduated. By going this route, I was able to take classes of interest to me while gaining important commerce knowledge. I also found I had a keen interest in economics, and I was able to pursue a minor in a subject I had no knowledge about prior to starting this program."
Kelsey took advantage of the optional internship opportunity and secured a position as Transition Analyst on a project team at Bell Canada, the largest telecommunications company in the country. "The project team involved different engineering groups, customer service, operations, supply chain, and install groups to coordinate the creation of the new network and programming radios." Her role consisted of organizing and analyzing all data from radios and equipment accessories sold to clients and partners in Manitoba. "As I moved further into my internship, I was given my own clients where I was directly responsible for their radio requirements. I ran their meetings, gave weekly briefing updates on their status, and I had to deal directly with any issues and try to troubleshoot complications that arose with the radios."
When asked what Kelsey was most excited for during her internship, she responded, "I was most excited to learn about an operations-based role, where my work would have an impact on the product Bell was selling. I knew that this role would allow me to work and learn from numerous departments which would help me see where my interests really were." Kelsey pursued this position because it also related to her other interests such as government and business relations, and she knew there was a possibility of being able to work closely with provincial and municipal governments.
The internship option for Management students offers a competitive edge as they progress through their education, by exposing them to real world applications of what they are learning in their classes. "The internship has allowed me to gain the confidence and skills needed to take on any tasks in my current job. It has also made me realize that there is a huge learning process when it comes to working your first full-time job. Having completed the internship I feel confident enough to go into any job fully prepared and to have a bigger impact right away, compared to if I never had this experience."
Networking can be intimidating, but you never know what opportunities making new connections can lead you to. Kelsey attributed her networking skills, as well as her previous work with Bell Canada, to helping her secure her internship. "I was able to use my contacts to submit my resume to the network department director. Due to my previous experience at the organization, I was hired for the 8-month term on the spot."
Although her job search was self-directed, Kelsey took advantage of the support Management Career Services offers students while preparing for her internship. "MCS' prep course provided networking skill building opportunities, resume and cover letter tips, as well as great job opportunities to apply to. Throughout the internship MCS offered us any support we needed if we had any problems."
Kelsey has since decided to further her education and has been accepted into the Dalhousie Schulich School of Law where she will be completing a joint MBA program along with her law degree. "By completing the internship, I have gained enough work experience to go directly into the MBA program."
Kelsey's advice for you:
Sign up for the internship program, because it truly gives you the knowledge and experience required to succeed in a new graduate job, and to learn about different departments and industries that you cannot learn in a classroom. Beyond that, the internship does not have to delay your graduation and you can still take a large variety of classes.
Don't be shy when it comes to reaching out to your network about a potential internship or co-op position you are interested in. By reaching out you show initiative, which cannot be seen in a resume or cover letter. The thought of a potential rejection can be scary, but the worst thing that can happen is that contact does not respond. Even if they say no, they might remember you for a job down the road or push your resume to a different department that is hiring.
Pronouns: She/Her
More from Kelsey:
Instagram: @kelseyprevost
LinkedIn: https://www.linkedin.com/in/kelseyprevost/