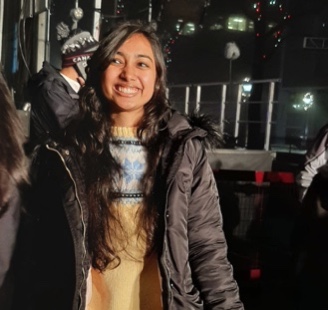 Manvi Bansal is an international student from Delhi, India, currently in her second year of the Bachelor of Commerce program. She was interested in attending Dalhousie because of its diversity and the ability to attain an undergraduate degree while simultaneously gaining almost a full year of work experience.   
Manvi's search for her first work term proved to be an interesting experience. The ongoing pandemic placed an enormous challenge on her job search plans. Back in March 2020, Manvi returned to her home country, which created an unimaginable barrier between her and the work search process. Not only was there the stress of a virtual job search amongst a pandemic, but the struggle imposed by a significant time change. Her family remained a massive support system and kept her motivated through the process.   
One of the strategies Manvi found most beneficial was reaching out to her MCS Career and Recruitment Specialist, Jonathan Perry, for help. He encouraged her to apply and learn from her experiences if there was no job offer, and helped change her mindset to consider every rejection part of the learning process. After each interview, Manvi would sit back and consider where she could improve. Jonathan's advice and self-reflection gave her the necessary tools and steps to be successful in her job search. 
"When applying for jobs, my main motive and objective was learning," says Manvi. "Since it was my first co-op opportunity, I kept my mind open to any role where I could develop soft skills and learn something new. And that's why I applied to every job posting through myCareer that interested me."  
In total, Manvi applied to 28 jobs and secured seven interviews. After completing the seventh interview, she was offered a position as an Entrepreneur Coordinator at Kerr Group of Companies. In this role, she will be working with the CEO/President on new projects. Manvi says she is very excited about this position because she will have the opportunity to mix her interests and discover more about what she wants to do in the future. She was also attracted to this role because of the different opportunities she will be involved in and the diversity that the Kerr Group of Companies maintains. "My Career Advisor Jonathan helped me throughout the hiring process. He helped me with my interview preparations and gave advice whenever needed," she adds.   
Her biggest piece of advice for others looking for their first work term? "I know interviews are frightening sometimes. But, one thing that I understood after seven interviews is that interviewers don't just want to see if you are a good fit for the role. They also want to know if you understand what the position is about, and if you match their core values. Be confident and be yourself. Of course, getting to know more about the organization is helpful too." 
Manvi's advice for you:
Keep your mind open and consider every opportunity that interests you (even 

if you are interested in a 

specific field, 

c

ons

ider other job postings too to

 m

ake sure that you don't miss a unexpected 

opportunity).

 

Leverage your connections on LinkedI

n (make use of your MCS Career A

dvisor's network too

, if needed –

 they are here to help).

 

Don't let rejection

 demotivate you. Take them as a part of learning. Your attitude will eventually reflect on the result. 

 

 
 Pronouns: She/her  
Check out more from Manvi!