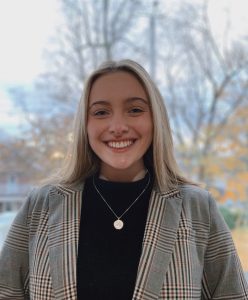 Emily Ogston is a second-year marketing student originally from Ottawa, Ontario. Emily chose to attend Dalhousie because of the opportunities that the Commerce Co-op Program would provide. "Gaining valuable, real-world experience early on in my professional life is something I think is very important," Emily added. She is looking to gain experience in her field of study to ensure that she can become more desirable to employers post-graduation.
During Emily's work search, she experienced the challenges that COVID-19 has put on the job market. The main lesson that she learned is that it is essential to be persistent and focus throughout the process. "The job search process can be overwhelming, but what helped me the most was creating an efficient way to analyze the postings by matching the skills, experiences, and goals of the posting to those of my own," she added.
Emily also found that the support MCS offered was beneficial throughout her job search processes. She was able to take advantage of her resources to make sure that her employer documents were professional and effective. Reaching out to MCS allowed her to effectively utilize LinkedIn, master the interviewing processes, and prepare effective resumes and cover letters.
Another tool that Emily utilized was the Venture for the Canada job platform. Venture for Canada allows students and young professionals* to explore entrepreneurial work at innovative start-up businesses. The process to begin using the platform involves applying for approval. Once your application is approved, you are given access to the job board, and your resume is sent to a list of potential employers that would be a good fit for you. Emily added, "after posting my profile which included the basic admin details, information about the program you're currently enrolled in, and past experiences I was contacted by the Senior Marketing Manager at The Rounds through LinkedIn to set up a coffee chat and discuss the positions she had available in January."
The Rounds is a secure collaborative network for physicians to learn, share, and discuss their needs and experiences on specific topics. After continuing the conversation with the Senior Marketing Manager, Emily secured a Marketing Coordinator Intern position for her co-op this January. "VFC allows students to gain hands-on experience within the field of their choice while also being apart of the growth of many start-up Canadian businesses – you're a part of something bigger," Emily added.
Emily's position will be starting in January, and she will be working remotely. Onboarding remotely can be a challenge, but it will allow her to develop vital problem-solving skills because she must adapt to being very independent working outside an office. Emily added that working from home can allow her to "grow and develop my problem solving and adaptability skills, which is something that will only benefit me in the future whether it be within personal or professional experiences." Emily also noted that the effects of an online job search brought up challenges with the interviewing processes. She mentioned that "The biggest challenge I faced with COVID-19 was missing out on the in-person interactions. This makes a big difference in connecting with the person you're talking to; Zoom just isn't the same. Virtually you're missing out on the human body language you would usually see during group work or collaborative experiences, which is something that helps you gauge the person's understanding and feelings about the conversation."
Emily's advice for you:
Get involved and take advantage of the services given to you.
Build a meaningful relationship with the person helping you during your job search – MCS career advisor, for example
Take advantage of job portals like VFC – quick and easy.
* This program is funded through the Federal Government of Canada. Therefore, students must be able to prove they are a Canadian Citizen or Permanent Resident to be hired, and international students are not eligible to participate in the program