Whether you are new to using myCareer, Dalhousie's centralized online recruitment system, or have already created an employer account in myCareer, you may not be aware of all the benefits that come with using it to review, select, and engage potential candidates. Here are some examples of how employers are using myCareer to help them save time and make their hiring process more efficient.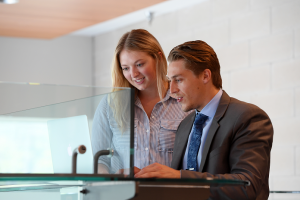 Real-time applicant status
Choosing "Through myCareer" under Application Procedure when creating a job posting will inform the employer of any students that become unavailable during the recruitment process.
myCareer lets student and alumni users access their application up until the deadline in case they wish to make changes or remove it from consideration. As a result, when the job closes, employers who access their applicant list via myCareer will have the most up-to-date information concerning applicants.
Reposting a previous job
Instead of creating a new job posting from scratch every time, employers with one or more postings in the system, use the "Repost a Job" option to save time and effort. This is ideal when some, or all, of the job posting details remain the same, and allows employers to only update the information that has changed.
Brand Recognition
By posting your positions in myCareer you can also draw attention to the position by uploading a company logo to appear directly on the posting. This is a great and free branding opportunity!
System Notifications
After a job posting expires, an email is automatically sent to alert you. This email provides you with a link to log into the system to select interview candidates and schedule interviews. A link to step-by-step instructions on how to request interviews through myCareer is also provided.
Packaged application documents
All of the application documents each candidate submits are packaged together in one file.
Shareable Application Bundles
A PDF bundle of all applications to the position (or just the candidates the employer is interested in) can be quickly created and shared with other employees participating in the hiring process using the "Email Package" option.
Interview Scheduling: Self-serve or Access Support
When it comes time to scheduling interviews, employers can opt to coordinate them independently or use myCareer's interview scheduling tool.
In offices that support student work terms, staff are available to assist employers with arranging student interviews.  Select your interview candidates and then provide interview details via the Schedule Interview wizard. Staff will ensure applicants are aware of interviews and confirm dates/times and locations, saving you time and effort in having to make these arrangements.
These are just a few of the ways you can take advantage of myCareer's ability to quickly and easily recruit talented and enthusiastic Dalhousie students. Login to myCareer today to explore the many benefits it has to offer!