We're delighted to highlight just a few of the podium-worthy results our students have earned at recent business competitions, conferences and more during this winter term:
You're Hired! Interview Competition
For 12 years and running, the competition invites students from Dalhousie and Saint Mary's to put their interview skills to the test, culminating in a live interview final in front of an audience. This year's first- and second-place winners went to Dalhousie Bachelor of Commerce students Adrian Hutcheson and Briana Dologh. Read more about Adrian's big win.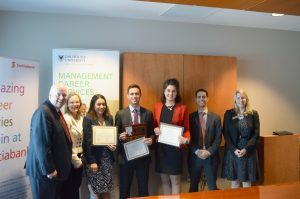 Great Canadian Sales Competition
Out of more than 2,200 submissions, three Rowe School of Business students (Tatum Freigang, Tiana Vuckovic and Josh Boothroyd) were included among the competition's top 22 finalists from across Canada, where they received a paid trip to Toronto to compete in the final round at Google Canada.
Dragons' Den Wins
Commerce student Terrena Huisman (Terrini's Bikinis) and Commerce alumni Cam McDonald and Daniel Bartek (Iconic Brewing) walked away with winning deals this year.
Operations Stimulus Case Competition
Commerce students Josh Biggar, Blake Newell, Clare Murphy and Mahmoud Ahran won this year's prestigious annual supply chain and logisitics case competition in Denver, CO. This marks the third win within four years for the Rowe School of Business, making it the only school to win more than once.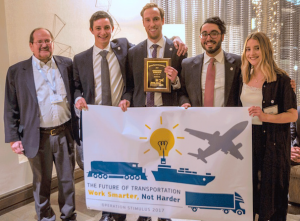 DECA U Award Wins
Dalhousie's DECA U (Distributive Education Clubs of America) chapter was founded in the fall of 2016 and is the first DECA chapter in Atlantic Canada.
At this year's annual DECA U Provincial Conference in Toronto, the group brought home two awards for New Chapter Award and the Largest Chapter Provincial Participation, along with a host of individual and group awards.
University of Vermont Family Case Competition
Congratulations to Dalhousie's Rowe School of Business team – Josh Biggar (BComm), Hailey Coleman (BMgmt) and Gardiner Goodman (BMgmt) – who finished third overall at the University of Vermont Family Enterprise Case Competition!
MBA Games Silver-Place Win
28 Dalhousie CRMBA students participated in the 2017 MBA Games, hosted by Vancouver Island University in Nanaimo, returning with a second-place win! Read more about their experience.