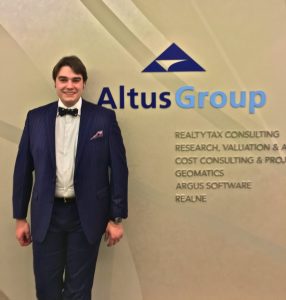 Third-year Bachelor of Commerce student Chris Hogarth knew what he wanted to do for his second work term this past fall. The only problem? The opportunity didn't exist.
With an interest in working for Altus Group, Chris leveraged myCareer as a first step in his job search. Though there were several posted positions available, none of them truly caught his eye.
Knowing that myCareer is just one tool in his supply job search resources, Chris used his personal connections, which led him directly to the top: "Altus' CEO was a connection that I made over the summer, a parent of a friend I had gone to high school with. I had spoken to him about some of the areas I was interested in and listened to him speak about what it was he has done for the company. Down the line when I was applying for jobs, I felt I could reach out to him personally."
Securing a self-found work term job can often lead to positions that are suited to your interests, and that offer personal growth opportunities. Chris shares: "I had an absolutely amazing co-op experience in a position that was tailored specifically to my wants and needs. I served as a Marketing Coordinator at Altus Group Limited in Toronto, Ontario for my second work term. I worked around some amazing people and made a number of contacts and connections from this term. From this experience I have learned many new skills with regards to web marketing, as well as interpersonal communication skills."
As for his final, upcoming work term? Chris is considering returning to Altus Group again, but hasn't ruled out another self-found opportunity: "I would recommend that other students use any personal connections that they have to secure a co-op term, it is a good feeling working near someone you know especially if they are a role model."
Though there are many options out there for co-op students, finding a job that both interests you and offers growth opportunities can be the first step for your career! With the summer co-op and internship work terms fast approaching, consider all of your options, including leveraging personal connections for the job search, meeting with your Career and Recruitment Specialist, and, of course, applying early and often to myCareer job postings.