Jaime Cahill and Matthew Cheung tell us the story of how their professional presentation and networking skills helped them secure interviews, and then jobs at Stantec and Scotiabank Global Banking and Markets respectively.
Jaime Cahill, future Sustainable Development and Management Consulting team Intern at Stantec
Before arriving at Dalhousie, Jaime Cahill earned a Bachelor of Science degree from St. Francis Xavier University studying chemistry. Realizing that lab work was not her calling, she set out to gain real business knowledge and hands on experience in order to succeed in the corporate world. Dalhousie's Corporate Residency MBA program which features an 8-month residency was a great opportunity for her moving forward. During the CRMBA Interview Day this past September, Jaime's professional presentation and networking skills helped her secure an interview, and then a job at Stantec.
"When job postings for our 8-month residencies were released, a sustainability intern position at Stantec immediately caught my eye. I applied for the job, but was unfortunately not selected for an interview initially.
Luckily for me, the first stage of Interview Day also involved each of us individually delivering a pitch to the employers on why they should hire us, followed by a networking event to speak with them further. As the evening drew to a close, I learned that Stantec had selected me for a "first impression" interview. Something about me must have stuck out to the employer during my pitch, or our conversation over a glass of wine, that hadn't shone through on my application. The interview the following morning went well and I was ecstatic to receive a job offer a few days later.
I think that in securing this position my interpersonal and communication skills were most relevant. Aside from waiting tables, I had next to no work experience to speak of, but I was able to effectively communicate my sincere desire to learn, willingness to work hard and passion for the position and the company during my interview. If I had to give students advice in their job search, I would say to be confident, resilient, and above all, be yourself. No matter how exceptional of an employee you might make, employers need to connect with you and feel that you're someone they could spend each day working with. Best of luck to everyone out there!"
Matthew Cheung, future Corporate Banking Analyst Intern at Scotiabank Global Banking and Markets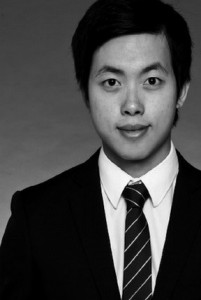 Matthew Cheung is a 1st year Corporate Residency MBA (CRMBA) student who secured a residency as a corporate banking analyst at Scotiabank Global Banking and Markets (GBM). Matthew graduated with a Bachelor of Science in Biochemistry from the University of Hong Kong. After deciding not to pursue a research role in life sciences, Matthew decided to move to Canada to complete an MBA and has since oriented himself towards developing a career in finance. Matthew shares his experience with the CRMBA Interview Day process and the steps he took to secure his job.
"Long before interview day, I had decided that I wanted to work in corporate banking at Scotiabank GBM. After researching the firm and talking to Scotiabank employees, I was attracted to the community-conscious culture at Scotiabank, and the high degree of employee satisfaction. Within corporate banking, I found a profession that was both fascinating and a strong fit for my skills and personality. In the months that followed, I directed my efforts to preparing to interview for this particular position.
However, come Interview Day, I had not succeeded in securing the interview that I wanted. Although I felt discouraged by the experience, I knew that corporate banking was still the job that I wanted to do and that Scotiabank was certainly the company that I wanted to work for. Not wanting to waste an opportunity to speak to an accomplished individual in that position, I reached out the Associate Director of Corporate Banking from Scotiabank who was interviewing candidates for the job.
Despite having interviewed candidates throughout the entire day, she kindly agreed to take the time to meet me and answer some questions. I asked her about Scotiabank, corporate banking and the skills that she had to build within her jobs. Through this discussion I learned much more about the profession that I wanted to enter. Appreciating the initiative that I took in approaching her, she gave me a chance to interview with her there and then. It was through this impromptu interview that I managed to secure my position with Scotiabank GBM. From this experience, I learned the value of firmly deciding on the job that you want, as well as the necessity of using a proactive approach in securing your goals.
The advice I would give to other students is this: Don't wait to get the interview before making preparations – take the initiative and begin as soon as possible. Never pass up on the opportunity to network and approach individuals working in the jobs you want, there is always more to learn.
And above all else, don't give up."
Want to improve your networking skills and learn how to make an impression on employers? Check your event calendar on mycareer for upcoming career development events!