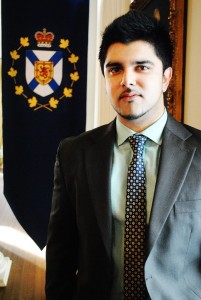 Zain is a fourth year Management student who successfully completed his 8 month management internship with Aramark Canada. As a marketing associate, Zain worked closely with the retail and marketing manager to develop and implement marketing programs and campaigns for fifteen retail locations on-campus including Subway, Second Cup, Tim Horton's and Pizza Pizza. The following summer, Zain completed his summer internship as a Sales Intelligence Analyst with Labatt Breweries of Canada. His determination and quality of work led both companies to re-hire him part-time during the school year as he completes his last year.
"My experience working for Aramark Canada (Foods Services at Dalhousie University) was phenomenal! It has given me the ability to lead, understand and build relationships with people from so many different age groups and backgrounds.
Taking part in the Management Internship Program has been most valuable in terms of my personal and professional development. I was required to attend an internship preparation seminar once a week. The seminar was used as a career development, which included: writing persuasive cover letters, conducting informational interviews, networking for success and giving great interviews. This experience combined with the professional experience I gained from Aramark Canada helped me secure my summer internship with Labatt Breweries of Canada.
My advice for co-op/ internship students is to do your best, work hard, and never say 'No'! Take any and every opportunity do something extra and challenging. At this stage, we are all learning, developing and growing, so don't be afraid, show that you are willing to take on every challenge, and that you are committed to your role and the success of the organization."
Interested in participating in the Bachelor of Management Internship Program? Get all of your questions answered at our upcoming Information Session on Thursday, September 29 at 4:00pm, see myCareer for event details and registration.