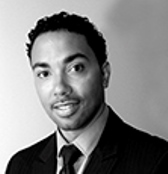 Meet Rodney Small, this year's Management Internship Student of the Year! Rodney completed his Internship at the Black Business Initiative. In his role, Rodney played a major part in the development and organization of new projects that are now of great value to the company. Through his commitment and efforts, Rodney has made an impact on both MCS and the Black Business Initiative. Here's what Rodney had to say about his experiences with MCS and the Bmgmt Internship Program:
"MCS provided me with the necessary motivation, professional development and confidence that allowed me to strengthen my networking capabilities which inevitably led to obtaining an internship. With the on-going support from MCS, I was able to secure a full-time position with my internship employer which is a major stepping stone to help kick start my professional career."
On his internship, Rodney exceeded all expectations by bringing innovation to his work and forming new connections and programs that benefit the company. Congratulations Rodney!