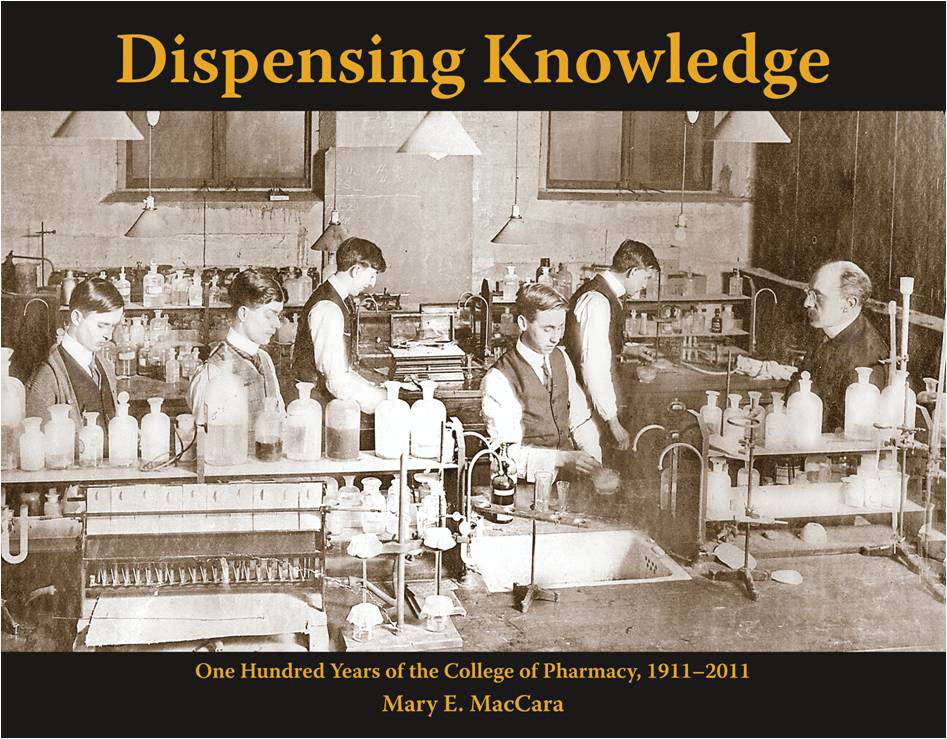 Did you ever attend a family gathering and get inspired by the interesting stories being told of your ancestors and the paths that they took?  Encounters like this have a tendency to encourage us to learn more about how things use to be an how things evolve to become what they are today.  These times also make us wish we had a place where the information was recorded so that it can be preserved and be readily available for future reference.  With the recent publication of the College of Pharmacy's history, Dispensing Knowledge, the College's family has been given a wonderful resource.  Researched and written by Dr. Mary MacCara, Dispensing Knowledge traces the College's history from just before its establishment in 1911, as the Nova Scotia College of Pharmacy, to the current time as the College of Pharmacy, Faculty of Health Professions, Dalhousie University.  College programs and coursework, research accomplishments, the development of continuing pharmacy education and the many student involvements are all now recorded as part of the College's history.
There are ten chapters, with a chapter devoted to the timeframe of each of the three Deans of the Maritime College of Pharmacy and the five Directors of the Dalhousie College of Pharmacy.  Personal reflections about the time of their leadership at the College, written by Directors Gordon Duff, David Yung, Frank Chandler and Rita Caldwell are included, as are memories of College days written by over ninety graduates and faculty members.  It also includes fourteen appendices, which provide information like courses taught over the years and names of the presidents of the student pharmacy society since its inception in 1946 – 47.  Dispensing Knowledge has more than 150 photographs of people, events and college memorabilia.  It is a very attractive book, with the cover showing the first five students at work in a laboratory with their instructor, George A. Burbidge, for whom the current College of Pharmacy building is named.
Copies of the book are available at the College of Pharmacy for $35 with funds raised through its sale benefitting special projects at the College.