Earth Sciences Departmental Awards – Fall 2018 Report
Awards Committee: Mike Young (chair) in consultation with Isabelle Coutand, Yana Fedortchouk, Lexie Arnott, Owen Sherwood, Richard Cox, John Gosse, Grant Wach, Sean Kelley, Dawson Undergraduate Club, James Brenan.
Memorial Awards Day – Friday, 9 November 2018
MacEachern-Ponsford Award – Ian MacEachern and Mark Ponsford were two Dalhousie graduates who were killed in December 1984 when the trench in which they were working collapsed on them.  An award was established by friends and family in their memory to be presented to a student who has excelled in Field School, who is of honours calibre and who has been an active participant in student activities. The first award was made in 1986; this year is the 33rd annual presentation of the award.
This year's award is to be shared between two students:
Bay Berry for her performance at the 3000-level Field School, stellar academic record, and her service to the Dawson Club including serving on the AUGC organizing committee. Bay is from Fall River, Nova Scotia, entered Dalhousie through the Integrated Science Program and is a coop student most recently working at the Joggins Fossil Cliffs.
Kanwar Multani for his performance at the senior-level Trinidad and Nevada-California Field Schools, for his excellent academic record, and his continued service on the Dawson Club executive for the last two years. Kanwar is from Alberta and transferred to Dalhousie after attending Red Deer and Lethbridge Colleges and working in the private sector. Kanwar is currently working on his honours thesis involving an experimental study of kimberlites.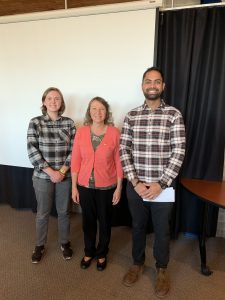 Douglas Award – This award commemorates Dr. George Vilbert Douglas, Head of the Department of Geology from 1932-1957, and the first to hold the appointment as Carnegie Professor of Geology, which was established 1933 with a gift of $125,000 from the Carnegie Foundation. Before coming to Dalhousie, Douglas was the Geologist on Shackleton's Last Antarctic Expedition (1921-22) and he explored Rio Tinto's concession on the Congo/Zambia (formerly Rhodesia) border in 1930-31.  This award is given to a student entering second year Earth Sciences with an outstanding academic record in their first-year studies. The first award was made in 1962; this year is the 56th annual presentation of the award.
This year's award is to Anna Ryan for her exceptional performance in first year where she took the equivalent of 7 courses per semester and achieved an A+ standing.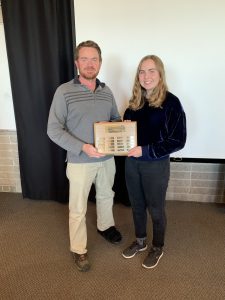 Barlow award – The award is named for David Barlow, who had completed his second year in the Geology program in 1983. He was in the Regular Officer's Training Program and attending summer training at the naval base at Esquimalt when the vehicle in which he was riding was struck by another and he was killed.  On the recommendation of the Dawson Geology Club in consultation with the Departmental Awards Committee and Department Chair, the award is to recognize a 3rd year Canadian student in the Earth Sciences program with a good academic record, and who has shown qualities of leadership in departmental, student or community affairs. The first award was made in 1989; this year is the 29th annual presentation of the award.
Normally, this award is presented at the spring banquet organized by the Dawson Club and it is meant to recognize the contributions of a student leader over the preceding academic year. This year, the department would like to recognize a group of students for their exceptional efforts in organizing an outstanding AUGC conference. It is quite unusual to make this award to multiple people, but this group of 10 students truly epitomize teamwork, with each member taking on their tasks with an inspired sense of responsibility and pride. We very much appreciate and value the dedication and hard work of the AUGC organizing committee and are proud to have the award shared by:
Jordyn Souter                                  Co-Chair
Ryan Taylor                                      Co-Chair
Catherine Evans                              Field Trip Coordinator
Tanner Milne                                   Judge Coordinator
Max Angel                                        Registration Coordinator
Kanwar Multani                              Treasurer
Bay Berry                                          Webmaster
Juan Chavez                                     Venue Coordinator
Aliya Anderson                                Secretary & Program Editor
Ben Myrer                                        Hotel and Banquet Coordinator
Each committee member will share the named award which will appear on their transcripts. They will also share monetary value of the award with the co-chairs receiving slightly more for orchestrating and managing such an effective team.