MARCOS ZENTILLI 1
Emeritus Professor, Dept. of Earth Sciences, Dalhousie University
Forty years ago, when the concept of seafloor spreading was still being debated, there was a need to better understand the oceanic crust, generally too deep for conventional drilling. An alternative was to bore into oceanic islands. In 1978 Dalhousie's geoscientists spearheaded the epic drilling of a 2 km deep hole into a mafic dike swarm in Reydarfjordur, eastern Iceland.  The results were surprising and led to much scientific enquiry. I have since learned about dikes that intrude sideways, sub-ice volcanos (tuyas and tindar), inflationary cones (tumuli), and pseudo-craters. My recent visit to Reyðarfjörður revealed that the local inhabitants remember the project not so much for the science, but because the abandoned hole is still producing hot water for the community, from an area previously considered devoid of geothermal potential.
1 with Dr. Johann Helgason (PhD Dal 1983), National Land Survey of Iceland, Akranes, jhelgason@internet.is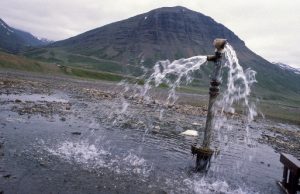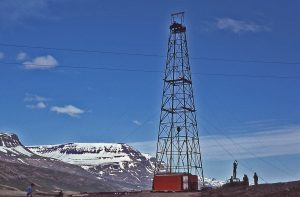 Dalhousie Geology's IRDP drilling rig in Reyðarfjörður, Iceland, June 1978
WHERE ARE THEY NOW?
Marcos Zentilli (Professor, 1073-2005; Emeritus, 2005 – present)
Johann Helgason (PhD, Class of 1983)
After completing his PhD (1983) and postdoc at Dalhousie University Jóhann has worked in Iceland on various assignments, mainly relating to geological mapping for the National Power Company of Iceland in preparation for the construction of dam sites for hydroelectric power plants, e.g. the Kárahnjúkar dam. Jóhann has also mapped the geology of the partly glaciated Skaftafell region, SE Iceland, a natural reserve site of striking beauty. Presently, Jóhann is an employee of the National Land Survey of Iceland. Jóhann lives with his family in Reykjavík where his wife Thorhildur (MA), is a social worker, his son, Jökull Jóhannsson (25), has a degree in business administration and his daughter, Anna Jóhannsdóttir (22), is studying psychology at the University of Iceland.
William (Bill) R. Morgan (BSc, Honours, Class of 1980)
After graduating with an Honours Degree from Dalhousie in 1980, Bill spent 13 years as an exploration and development geologist, working both conventional oil and gas as well as heavy-oil projects in the Western Canadian Sedimentary Basin.  In 1993, Bill joined Clifton Associates Ltd. (civil, geotechnical, environmental engineering) providing environmental consulting services on projects throughout western Canada.  For the past 25 years, Bill has provided professional advice on environmental assessment and the decommissioning and remediation of commercial, industrial, and residential properties.  This included the development and implementation of environmental programs and managing contaminated sites through phased environmental site assessments, environmental risk assessments, evaluation of remedial options and completion of site remediation.  A primary of focus of his has been the environmental impact on soil and groundwater of rail operations and his specialty within remediation has been liquid petroleum hydrocarbon recovery.  Upon retirement from full-time consulting at the end of 2010, Bill was a corporate vice-president with Clifton, responsible for the Alberta Operations.  Subsequent to 2010, he continues to provide consulting services to Clifton on an ad hoc basis.  Bill now lives in Canmore, Alberta, with Ingrid (BSc, Class of 1980), also a Dalhousie geology grad.  They have one son, Alex, who is a Journeyman Heavy Duty Mechanic and lives in Calgary.
Andrew J. D. Kendell (BSc (Honours), 1981)
Andrew has been Manager of the Industry Liaison and Knowledge Transfer Office for St. Francis Xavier University since 2004.
At StFX, Andrew is responsible for all aspects of industry – academic collaboration on applied research to solve industry research needs, ranging from greenhouse gas mitigation in oil and gas projects, to extending shelf life of prepared value-added foods, to artificial intelligence software in web-based marketing.
His career was launched with a degree in geology from Dalhousie University and land use planning from the College of Geographic Sciences and spent 5 years working as a well-site geologist at various oil and gas drilling exploration sites around the world.  This was followed by thirteen years with the Government of Nova Scotia, primarily as the provincial Environmental Assessment Administrator with responsibility numerous large-scale industrial developments, from quarry developments, double-lane highways, power plants, hazardous waste treatment facilities to landfills.  A move back to the oil and gas industry followed with the Canadian Association of Petroleum Producers with work environmental and safety regulatory issues. This in turn was followed by a year as a business manager for a small environmental consulting firm.
Andrew and his wife Kim live in Antigonish where they are kept more than busy with their children Diana (21), now in 3rd year nursing at St. Francis Xavier University and John (14), rising soccer star, guitar player and typical male teenager.