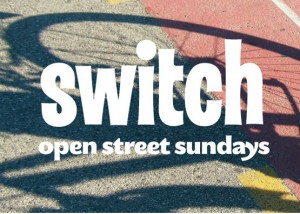 Hello Switch Fans,
We had a good meeting on Tuesday discussing how to build more greater public and institutional support for Switch.
One of the immediate actions to support the Switch Open Street Sundays : Bike Week project planned for June 9 is to mobilize volunteers for this Thursday evening from 6:00-730PM for route canvassing.
Although, we demonstrated substantial public support for Switch last year and we have made some in-roads in simplifying the process moving forward by getting Switch in the Regional and Active Transportation Plans as well as a forthcoming Road Closure Policy this will not change things substantively this year. We will still need to go out this year and get signatures from people who live on the route. On thursday evening we will be asking for signatures for our two 2013 events on the Agricola/Bell/South Park corridor.
We will meet at 6PM Thursday April 4th at Agricola and Cunard to divided up the route canvassing. We will work in groups of two and will have a standard message for people to deliver. We had roughly 95% approval of people we talked to last year so it should be pretty straightforward. I will have the materials printed off and we will look to drop something in their mailboxes in advance early this week. Bring a clipboard if you have one.
Feel free to pass this on if you know of people who might be willing to help out
thank you
Ross Soward
Community Planner
Operations Director