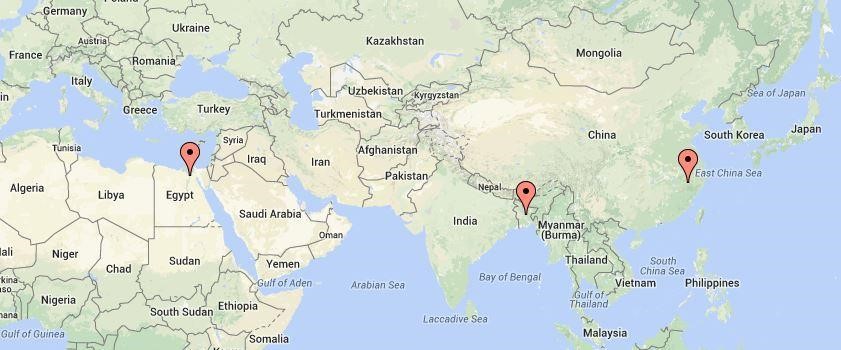 Whether from Quzhou China, Dhaka Bangladesh, or Cairo Egypt, our program has long welcomed international students and the unique perspective they contribute to each cohort.
As someone who grew up here in Halifax, Nova Scotia, I was curious to hear about my fellow classmates' experiences moving to a new city and a different culture. I spoke with some of the international students currently in the program about how they found adjusting to Halifax and Dalhousie.
Fahim Rizwan, a second year student, was born and raised in Bangladesh. The biggest change for him in moving to Canada was the language he uses day to day. He spent time in the US and Canada leading up to the program's start, so he found the adjustment easier, but at first he still struggled with speaking English 100% of the time (I can imagine – learning about ROI and Perceptual Maps is hard enough in my native tongue). And of course, coming from a yearly average temperature of 25 degrees centigrade, Fahim also commented on the Canadian winters: "Canada is cooold!"
One of the first year students, Saleem Tawakol, hails from Egypt and has the distinction of being the first Egyptian in the CRMBA program. He was also in the unique position of being newly married to his wife when he first moved to Canada to start the program. She came with him to Canada, and Saleem spoke frankly when he said that being "raised in cities that are cultural opposites of Canada should have made our coming here a bumpy ride, but on the contrary, we were greeted with smiles as soon as we made it to Pearson and anywhere we went across the Country." While speaking with Saleem, I was also reminded of something I take for granted, which is the large number of trees in Halifax – something which earns the city its nickname "The City of Trees". Coming from Cairo this was certainly a contrast for Saleem.
Mirroring Saleem and Fahim's comments, Elsie Chen, another first year student, found the colder climate the most striking difference between her home in China and Canada. Despite this, she loves the beautiful scenery that Halifax has to offer and its casual but hard-working culture. Canadian customs, like holding the door open for strangers, talking to people at bus stops, and a generally more open and friendly interaction between people, were some of the things she first noticed when getting to know this country.
Often coming from the warm climates of Asia and the Middle East, adjusting to life in Halifax for some international students can be a challenge. One thing the program does to help with this adjustment is the International Orientation Week before classes begin to assist students in their transition to Canada. For instance, the program takes students on a tour of Halifax, gives opportunities to practice English for those who want it, and provides learning activities like practice Case Studies, to set international students up for success. Saleem spoke fondly of this experience, saying how "the Dalhousie team was very warm and welcoming, and it was a great chance to get to know my fellow international students as well."
International students bring incredible value to the CRMBA program. Their distinctive experience and perspective create opportunities for Canadian students to see things in a new light. In class it is common for professors to ask for international students' perspectives on the issue being discussed, so they can be compared to the solutions proposed by Canadian students. Elsie shared her belief that Canadian students help international students improve their "soft" skills by encouraging participation in activities outside of the classroom, and in turn the international students reinforce the "hard" skills in the class with their steadfast work ethic. I personally believe that my class experience has been enriched by having students from across the country and across the world.
Having spoken with Saleem, Elsie, and Fahim, it is clear that their time as international students in the Corporate Residency MBA program at Dalhousie has been a positive one. I asked each to share their best piece of advice for international students considering the program:
Fahim: "Be yourself and work hard; most importantly, have fun!"
Elsie: "Be authentic and show whatever great qualities you have."
Saleem: "Engage as much as possible and have fun!"