Originally posted by Scott A.E. Smith.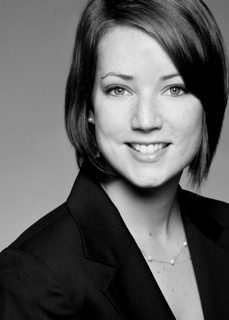 James Ewart is currently on his Corporate Residency with Aon in Toronto. Recently, he chatted with Jocelyn Ball, who worked for Aon on her Corporate Residency as a member of the program's inaugural cohort—the Class of 2011. Jocelyn is now working as an insurance broker for Aon in Calgary, Alberta. She's a star among stars from that inaugural class, who are continuing to build the program's reputation in the business world. Enjoy!
First off, why don't you start by telling us the Jocelyn Ball story and how you came to find yourself in the Dalhousie MBA program?
See Testimonial Video #1!
Alternatively, the answer to that question is:
I worked for two years doing environmental permitting and planning and sustainability consulting. I loved the client focus and knew that I wanted to do something that mirrored that for my long-term career. My employer at the time is one of the Employer Partners of the Dalhousie MBA program, so when I went in to discuss doing an MBA with my boss four years ago, he slid the pamphlet across the desk to me. I was curious and went to Dalhousie to check out an information session. The program immediately grabbed my attention—it promised to be different from the other MBA programs I was looking at. My undergraduate degree was done at Renaissance College (UNB) in an experiential education set-up, so the program at Dalhousie seemed like a natural next step for my education.
Originally, I said yes to another offer at a more established program and well-known school, but I never said no to Dalhousie. When I was trying to figure out where to live in the new city of the other school, something just wasn't sitting right with me. I printed off the list of companies that recruit at both of the schools I was considering and sat down to compare them. It didn't take long to realize that the companies I wanted to work for were recruiting at Dalhousie. Dalhousie and the Corporate Residency program were where I needed to be. I haven't looked back since.

You did your Corporate Residency at Aon, where you now work full-time. Would you say that the experience shaped your career aspirations or did you know prior to the MBA program?
Coming into the program, I knew that I wanted to do something similar to consulting. I love that client-driven, fast-paced work environment where you do not know what to expect day-to-day. I also do not enjoy sitting at my computer all day, every day, and consulting-type environments usually lend themselves to getting out of the office for meetings, travel and other functions. Beyond those requirements, I could not envision exactly what my future career looked like before attending the MBA program.
Honestly, I did not even realize the world of insurance could be such an exciting career path before I met with Aon during the residency recruitment process in my first semester. All of a sudden, I was taken by a company that I already felt pride in being associated with. I now find myself immersed in the world of commercial insurance for energy companies in Calgary, Alberta. I am an insurance broker for the property and casualty insurance of over 140 lines and more than $10 million in premium. It's a big job and requires a large commitment, but one that I am more than willing to make this early in my career.
Having previously worked in sustainability, was it a big adjustment going into the corporate atmosphere? Would say that your previous experiences were an asset in this process?
As described above, my previous career and experiences were certainly assets in the process and continue to be every day at my current job. Sustainability is an interesting field, one that I have a ton of respect for, and it is part of the corporate world. As a result, there really wasn't a big adjustment moving from one corporate job to another in that sense. The bigger adjustment may have been moving across the country from Halifax to Calgary!
Where do you see your career taking you in the next 10 years?
I would love it if Aon works out for me, and I for them. This is an incredible company with over 60,000 staff in 120 countries around the world. I see unbelievable opportunity for growth and potential here that I cannot wait to explore and continue to prepare myself for. The best things I can do for myself in my career right now are to stay put, have faith in the network around me and continue to ask questions while learning as much as I can.
How was your experience with the MBA program overall? What did you learn about yourself?
My experience in the Corporate Residency MBA program was unparalleled. It led me to the career I am in today, grew me professionally and personally, and has surrounded me with one of the greatest networks of incredible people I could have asked for. As part of the first class through the program, graduating in 2011, we will forever be connected despite time and space. I am excited to meet the classes that come after us and hope that the program gets stronger every year.
During the Dalhousie MBA program, we did a number of personality tests and various personality management seminars (e.g. conflict management, effective meetings). I discovered that I am a team player to a fault, which means that I am one of the last people who will 'leave the team' or opt to 'go it alone'. This can be positive when working in intense and highly complex team environments, but a challenge when working entirely solo on a project. I also learned about my levels of empathy, extroversion and technical aptitude in a number of areas. It may sounds cheesy, but once you get to know yourself better, you are able to understand other people and your reactions to situations better. Upon reflection, I would argue that this is a conscious decision to grow yourself in a meaningful and productive way.
What would be your advice to people considering applying today?
If you are just starting to consider doing your MBA—whether it be the coming year or not for a couple of years—write the GMAT as soon as possible. It is one requirement that is mandatory across the board for the majority of schools in Canada and your test results are valid for five years. Get it out of the way to allow yourself to concentrate on finding the right school for your next step.
I would also recommend going to the campus and having some honest discussions about what you are looking for. If you want a program that is solid in its business foundation, yet will challenge you to grow personally and professionally while giving you an eight-month work term, Dalhousie is the right option for you. If you want a program that is solely about academics and ignores tapping into your soft-skill development, Dalhousie is probably not the best fit. Beyond the courses, there are countless case competitions, societies, clubs and sports teams you can take part in. The city of Halifax itself has an enchanting east-coast charm that you will cherish for many years; it is a wonderful place to spend two years working on a Master's degree.
The more you put into this program, the more you will carry with you throughout the rest of your career. Good luck!