"Thinking about these big-picture issues, and how to make changes to programs, services and policies to better help people—that brings me joy" – Christine Szarmes, MPA(M), Class of 2021
Republished from Faculty of Management, News & Events
Suzanne Bowness – Alumni & Friends, October 26, 2021
Grad profile: Enriching her public service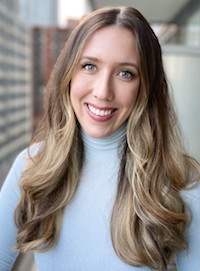 Christine Szarmes learned early in her career that public service would be her path. After working for her hometown of Orangeville, Ontario, she landed her first career position as a research assistant at the Regional Municipality of York while she was in between completing her undergraduate degree in English and Psychology from Western University and her graduate certificate in Marketing Management from Humber College. Now, with over eight years of experience at the municipality and having advanced to senior policy analyst, Szarmes' next goal is to continue to move up, likely into a management role.
And that ambition meant finding a program that would complement the learning she was doing on the job. "I became entrenched in the public service without that formal public policy education, so I had been thinking about going back to school for a while," says Szarmes about her decision to enrol in Dalhousie's Master of Public Administration (MPA) program. She adds that most of her coworkers already had a master's degree, so it was important to her to stay competitive by formalizing her education.
Szarmes says she chose the MPA for several reasons: the courses covered a broad range of topics from research to economics to policy, the career experience requirement meant that she would be networking with other established professionals, and the MPA was offered online. "The program is really designed for people who are working full time. You're able to make the schedule your own and complete the course work when it works for you. The profs were great at knowing you are working full time and a lot of the assignments tie back to things you are doing at work," says Szarmes. She took two courses at a time to complete the program in two and a half years.
Szarmes appreciated that class discussions gave her time to think about professional issues more theoretically and that assignments were relevant to her current work. In terms of favourite courses, Szarmes identified Local Government as helpful in formalizing what she'd learned on the job, while Business and Government provided a fresh perspective on how the public and private sector could work together. Both helped in her current role, which focuses on housing management. The Management Skills Development course helped her reflect on her next steps. "It got me thinking about the type of leader I want to be and the skills I want to foster."
She also appreciated the intensives, which she completed at Dalhousie and in Ottawa. "I really enjoyed meeting people I'd been talking with over the past four months, and working alongside people who have worked in different sectors and have different experiences to share," she says.
Having completed the program, Szarmes is even more convinced that she's in the right field. "I guess it comes down to helping people," she says when asked what attracts her to public service. "Every portfolio I've held has been in social services or in a human services field. It's something that came up in the courses, this idea of wicked problems, problems that don't have clear or easy solutions—like homelessness or poverty. Thinking about these big-picture issues, and how to make changes to programs, services and policies to better help people—that brings me joy. I find it really fulfilling."