Republished from Faculty of Management, News & Events
Suzanne Bowness – Student, News, June 3, 2021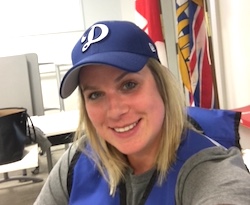 Anya Daradics has long known that she wanted to work for the federal government, and eventually in management. No surprise then that such a goal-oriented person was on the lookout for the right program to get her there. She found it in Dalhousie's Master of Public Administration (Management).
By the time she started the program, Daradics was already well on her way to accomplishing her early career goals. A naval reservist since high school, she completed her bachelor's degree in 2010 in political science at Carleton University, then landed her first job working for the Canada Border Services Agency in Ottawa as a program officer. From there she moved to Transport Canada as a Maritime Security Analyst, then on to Public Safety Canada as a program officer. She also moved back to the Vancouver area.
Today she's returned to Transport Canada as Emergency Management Program Manager, where she is responsible for emergency management training, preparedness and response for Canada's Pacific region. It's a job she loves in a setting that suits her. "I'm a very passionate federal government employee. I enjoy going to work every day probably because I'm a problem solver," says Daradics.
Given her commitment to public service, choosing a master's program that was familiar to those in her field was important. "I chose Dalhousie because it was a good fit for working full time, and because it was a program recognized as being very suitable for federal government employees." Daradics began her program in 2017, and says she's liked the flexibility of blended learning to balance her busy work life, along with her family (she has a one-year-old and two step-children aged 9 and 13) and her responsibilities as an active naval reservist serving in middle management.
Daradics says her favourite courses have included Intergovernmental Relations, Strategic Management in the Public Sector and Policy Formulation and Analysis; she liked the balance of academic and theoretical. "The instructors did such a great job of balancing academics, postgraduate education and the public service," says Daradics. She points to one of her favourite professors, Lori Turnbull, as someone who brings examples of problems she'd encounter on the job for students to dig into. "If you're really passionate about your work, it's a joy to be in the classroom working under her because you feel like you're just trying to solve the problem of the day," says Daradics.
Daradics also liked the flexibility to work on assignments that related directly to her own work. For example, in an elective course she took through the MBA program last term, she wrote a paper on change management in her current organization. She's since referenced the paper in meetings when the topic has come up. Finally, she enjoyed the face-to-face intensive component of the program, despite attending only one in Halifax (she turned the opportunity into a short vacation with her mother in the summer), and the others in Alberta and Ottawa where she combined them with work trips. "They were very rewarding times, especially some of the intensives when I've walked away thinking, 'wow, that was such an engaging conversation.' Everyone in the room cares so much about government," recalls Daradics.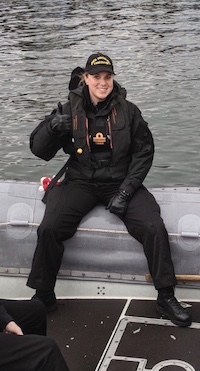 Now that she has graduated, Daradics is already recommending the program to others. "I've had a few colleagues investigate whether this program was suitable for them. I tell them I felt like it was worth my time and brought me benefit. This program provides you with a really in-depth understanding, from an academic perspective, of the way the federal government in Canada works," says Daradics. "Especially if you're at the management level, you don't always have the time to understand the way the government is supposed to run. In an academic setting, you get the opportunity to really understand from a theoretical perspective the way it's supposed to work.
While she's glad to wrap up one element in her busy life, Daradics says the benefits are worth the balancing. "If you can juggle it all and prioritize the workload, it is really rewarding at the end that you've accomplished something even as you are working on your career."