Like many times in my life, what started off as a fleeting idea turned into an exhausting but rewarding experience.
On Sunday April the 4th, I had an idea, to see if we could try to replicate, as close as possible, a classroom experience.  I thought "What if during our International Business students could sit in front of their laptops at home at the office or wherever and look at me as if I were standing right front of them in the classroom."  How would we do that?   So that evening I wrote an email to Derek, Cassandra and Michelle and said "Do you think there's any way we could actually try and replicate a classroom experience?  What if you filmed me in a classroom and we just pretended as though the students were sitting in front of me?"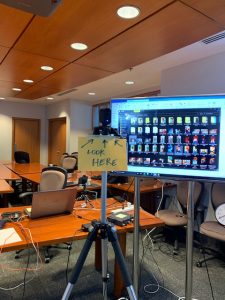 On April the 7th, I walked into the Executive Classroom (which many of you would know) and there was Derek (masked) with three different cameras, two different microphones,  this massive TV screen, tons of lighting and every kind of technology you could ever imagine.  Online was the CEGE team, who had given up part of their day to see if this technology could work.  We experimented for a long time that day to figure out what camera angle worked,  were to stand , how to move.  Morgan had great ideas in terms of the presentation itself…. the font size, the colour, the background, what would work best on camera.   Sarah was great at telling me when I was out of range.  She would say….you need to hit your marks.
At one point, we got some masking tape and put X's on the floor to where I could stand and where I could  not.  Cassandra was great for saying "you know when you're standing this way your voice is kind of trailing off a bit".  Michelle, as always saw it the way the students would see it, she would say  if you looked at the camera more often that would probably be a great idea.  And throughout all this, Derek is running around changing the lighting, the microphones, and the camera angles. We rehearsed again the next week and we had our last dress rehearsal on the 19th, two days before we went "Live".
On Wednesday April the 21st at 9:00 o'clock we started with students that were across this country literally,  from Newfoundland all the way across Canada out to Victoria.   We started and we said to them this is an experiment it may go badly but we hope it doesn't.  For the next three days Derek and I (masked , socially distanced, with lots of hand washing) ran the IB intensive.  I taught the same way I would teach if the students were sitting in front of me. We had the students interacting.   We had students working in breakout rooms,  we had guest speakers and at the end of it I came away and thought that's about as close as we're going to get.  Then Derek turned to me and said "Oh I think we can do even better.  We can do even better….you just wait to see what we can do so for SLC this summer!"
To the students that were with us on this new adventure, I want to thank you.   It was an experiment and it was a tough one at times.  At times the mic went down,  or I was kind of out of range, and at times the lighting didn't work. At one point in time Derek and I actually were hauling in a coat rack  so we could mount a light on top of it so that half my face did not make  me look like the I was the stand-in for the Phantom of the Opera.
For the students,  I think the real take away from this was that it was a different experience they had than for other virtual intensives.  The idea that they could sit across from me, with each other and all of us interacting well that came true.
While this was a stopgap measure until we can get ourselves sitting literally in front of each other I think it may be part of the future.   If we can make this a way that you can sit anywhere and be engaged, be challenged, to stretch your thinking, to be able to interact with each other, then what a wonderful tool to have in our toolkit.
What started out as an idea turned into three dress rehearsals, three different cameras, multiple microphones, every kind of lighting system you could ever imagine, a massive TV screen, and complete destruction and restoration of the Dean's Boardroom.  It involved   incredible support and help from my TA Irena who managed to monitor and moderate all of our discussions.   Derek who was my unfailing audience all the way through this who often put his hand up when nobody was answering any of my questions.  To Michelle and Sarah and Morgan and Cassandra who gave me invaluable advice,  thank you for helping  turn the idea into reality.  The feedback from the students from both Intensives (yes, we did this twice over 10 days) agree that this was an intensive unlike others, which at the end of it all was the whole point of the exercise.