"One constant exists in today's work environment – change. In the past three years, the typical organization has undertaken five enterprise changes: cultural change, restructuring, market expansion, leadership transition, or a merger or acquisition. Two-thirds of these changes fail to deliver against their stated goals, and they are also not happening quickly enough."
Lisa Colangelo, Dalhousie MBA Leadership Candidate, 2022
Lisa Colangelo, SVP Retail Banking Coast Capital Savings Federal Credit Union, is currently in the MBA Leadership program.  In a recent virtual interview with CEGE Connection, Lisa shared her thoughts on leading change within a complex business and social environment.
Lisa Colangelo
What does change look like for people in an organization? Think of a 'curve' as the process we go through as individuals, and the process in an organization that creates sustainable support for a new process over time.  Individuals ascend this curve at different times; some, like sponsors, go through the process early; others commit to the process once they confirm that their leaders embrace change. The responsibility to set the pace rests with the leader.  Supporting and believing in the change process will encourage your teams to actively participate and thrive during transitions.
How does this play out for individuals within an organization?  Initially, we are simply aware of a change.  As we gather more information, we start to understand that change; then if conditions are right, we may decide to accept the change.  For change to be successful in the long run, that acceptance shifts even further, into feeling fully committed to or even taking ownership over the new way of being.  Does this connect for anyone on a personal level?
The most valuable takeaway may simply be for leaders to be conscious that they are going through a process themselves personally, and that it is okay to struggle or need specific things to get to the next stage.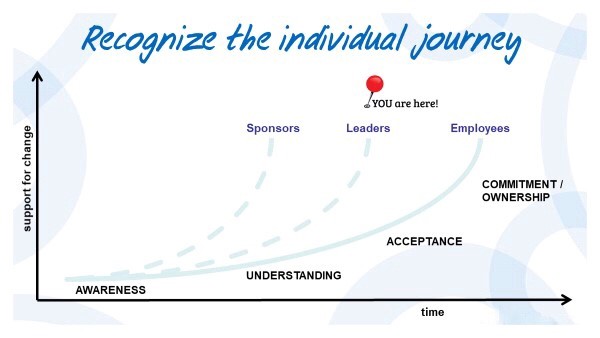 Moving up the curve can require various things: more information, more encouragement, connecting the dots on individual benefits, even having a chance to kick the tires. The watch out: just like walking uphill, it is easier for groups or people to slide back down a curve than to progress up it!  Be sure that you get what YOU need to move up the curve if you feel yourself sliding back or feeling stuck.
Once a leader is up their own curve, then they can help move their teams from awareness to understanding, then from acceptance to ownership.  So as leaders, we use this model to help 'clue them in' to warning signs that teams or individuals are sliding back down.
There are some clues to recognize where you and your team are located on the curve.  As well, there are also reliable clues when people are 'coming back down!'
When you become aware of an impending change, be curious and open to innovation. Of course, there is always uncertainty with transitions. There may even be cause for concern if people seem unaware that change taking place.  But once individuals become aware, they generally move to understanding by asking questions and integrating fresh information.  Training is essential to highlight how roles and workflow will change.  Confusion is a natural part of the process as we sift out the right information from myths and assumptions.  This is the time when you can bring clarity and purpose to the discussion, thereby positioning individuals and your team for success.
Once we understand a change, we have a choice: we can resist it, or we can accept it.  Now, one of the watch outs here is our tendency to believe that no news is good news or worry if we hear a lot of questioning and feedback (i.e., "road noise.")  On the contrary, this questioning is a crucial part of what is needed for individuals to fully acknowledge and accept a change.
Once people accept that a change is really happening, there are two ways: actively oppose it or actively support it.    Active support means that the change is the new normal, and we even see individuals show that they believe it is here for good, suggesting improvements and wanting performance measures to be based in the new way.  That is when you know the change can be sustained over time.
Lisa Colangelo
Dalhousie MBA Leadership Candidate, 2022