"It was only six school days into the new academic year when close to 300 Dalhousie business students and 120 employer partners representing 40 different organizations came together for an epic evening of networking on campus. Hosted by Management Career Services, Rowe Networking Night is an annual event that offers students from the Bachelor of Commerce, Bachelor of Management, and Corporate Residency MBA programs the opportunity to form valuable connections with recruiters and business professionals." Dalhousie News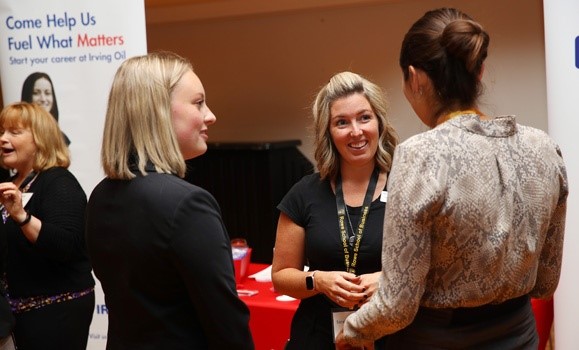 Management Career Services, Rowe Networking Night (Nick Pearce photos)
Hosted by Management Career Services, Rowe Networking Night is an annual event that offers business students the opportunity to form valuable connections with recruiters and business professionals. CEGE Connection reached out to Robert Wooden, Director, Management Career Services,  to explore the excellent opportunities Dalhousie University offers employers.
Robert Wooden:
Throughout the year, Management Career Services organizes various recruitment initiatives and events. These are ideal opportunities for employers to showcase their brand on campus, invite top talent into the workplace, and raise awareness of their organization amongst prospective employees.  Our goal is to compliment an employer's recruiting strategy by participating or hosting a targeted event on Dalhousie campus.  Our signature recruiting events are a great occasion for employers to promote their organization and meet our students before the hiring process begins.
We want to engage employers beyond the job posting! Management Career Services offers numerous opportunities that will maximize a brand's exposure to students in Dalhousie's Faculty of Management. Employer partners participating in our career development events benefit by connecting with an enthusiastic emerging workforce.
I enjoy meeting with potential new employer partners.  Working in consultation with our Employer Development Team and Career and Recruitment Specialists, an employer can opt to:
host information sessions or recruitment booths on campus,
participate in signature on-and-off-campus recruitment and networking events (Rowe Networking Night, CRMBA Pitch & Mingle, CRMBA Interview Week, Dalhousie's Job & Career Fair)
sponsor student engagement events (Co-op Summer Social, Rowe Networking Night),
hosting student onsite (Corporate Tours in Halifax and Toronto, Workplace Experience Program)
engage in career and industry education activities (guest lectures, workshops, panel discussions, practice interviews and elevator pitches, case competitions, round table discussions)
Dalhousie's recruitment programs and services showcase a rich talent pool, whether employers are looking to hire a recent grad, a Bachelor of Commerce co-op student, a Corporate Residency MBA student, or a Bachelor of Management intern. To learn more about our programs, visit our dedicated employer page.
Editor's Note:  For more information on the recent Rowe Networking Night, I invite you to visit Andrea McKay's article on Dalhousie News.