Seafood recommendations, eco-certifications and Canadian Atlantic salmon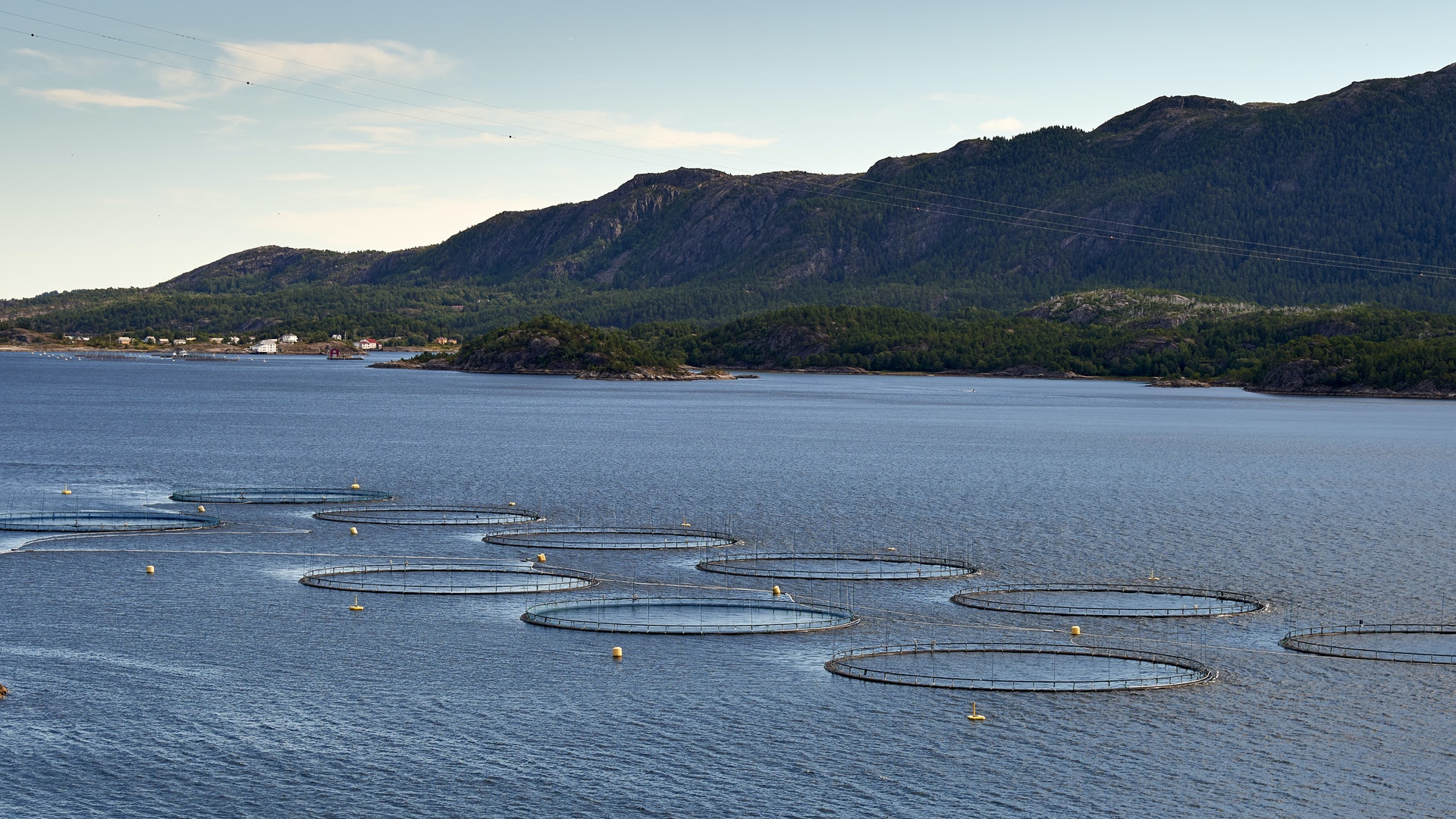 Seafood Watch, a sustainable seafood recommendation program, recently updated its sustainability ratings for Atlantic salmon farming regions. These updated ratings have been making news in Nova Scotia where Atlantic salmon raised in marine net pens has been upgraded from a red rating (avoid) to yellow (good alternative) according to Seafood Watch's "traffic light" system. Meanwhile, Atlantic salmon raised in British Columbia has been downgraded from yellow to red. Previous red ratings for Atlantic salmon raised in marine net pens in New Brunswick and Newfoundland did not change.
What are these ratings based on and why did they change?
As a sustainable seafood recommendation program, Seafood Watch provides ratings for both farm-raised and wild-caught seafood based on a set of sustainability criteria. In the case of Atlantic salmon raised in marine net pens, those criteria include the potential environmental impacts of salmon farming, farming practices including the use of chemicals and composition of feed, potential impacts on wild salmon including the result of escapes and disease transfer, and the availability and quality of data to assess environmental criteria. Combined, these criteria inform a final rating of red (avoid), yellow (good alternative), or green (best choice).
In the case of Nova Scotia Atlantic salmon, the change from a red to yellow rating reflects changes in chemical (pesticide) use, escapes, and disease, while the change from yellow to red in British Columbia reflects changes in chemical use and disease risk.
Seafood Watch & the Aquaculture Stewardship Council
Since British Columbia produces the majority of Canadian-raised Atlantic salmon, a downgraded Seafood Watch rating leaves the majority of Canadian-raised salmon with a red rating. However, not all Atlantic salmon grown in British Columbia waters was downgraded to a red rating as Seafood Watch recommends Aquaculture Stewardship Council (ASC)-certified salmon as a yellow-rated good alternative. This recommendation is the result of a benchmarking process that compared ASC certification criteria for salmon against Seafood Watch criteria and scoring and determined ASC-certified salmon to be equivalent to a Seafood Watch yellow rating.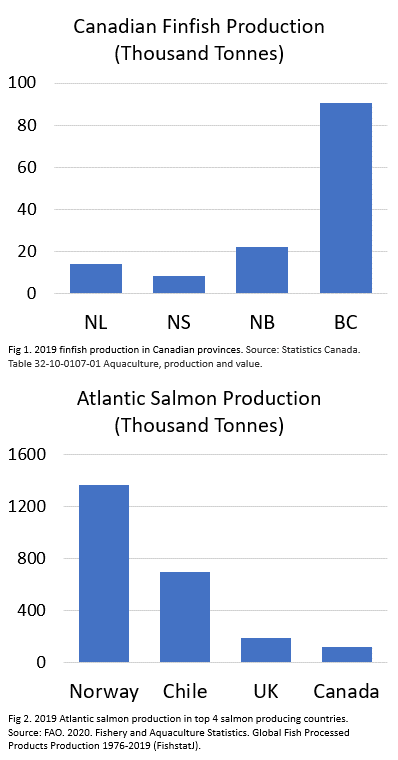 In 2019, 27% of Atlantic salmon farms in British Columbia were ASC-certified, and therefore rated yellow by Seafood Watch. That means although farmed salmon from the province is broadly given a red rating, over a quarter of the individual farms are more highly rated. This is worth noting because although production in British Columbia falls below the amount of production in Norway, Chile, and Scotland – countries which also have both red-rated and yellow-rated salmon farming regions – it had the highest percentage of ASC-certified farms when compared against these countries in 2019.
Seafood recommendations and eco-certification
The presence of ASC-certified farms within a Seafood Watch red region highlights one of the key differences between aquaculture recommendation programs and eco-certification; recommendation programs provide ratings or recommendations for regions while eco-certification programs certify individual farms, or in some cases a group of farms. When it comes to sustainability, both the environmental status of a farming region and individual farming practices are important. By assigning ASC-certified marine salmon farms with a yellow rating, Seafood Watch is recognizing the role of individual farms and producers in industry sustainability, and it is possible for a farm within a red Seafood Watch region to achieve a yellow rating if it becomes ASC-certified.
In addition to the scale at which aquaculture is assessed, there are other key differences between recommendation and eco-certification programs including the type of sustainability criteria they rely on and who initiates the assessment process. While Seafood Watch relies only on environmental criteria, eco-certification programs also recognize governance issues and some social issues through the inclusion of criteria related to workers' rights, health and safety, and traceability amongst others. In the case of eco-certification, individual farms or producers seek eco-certification and pay a third-party auditor to assess their farm(s) against those criteria. This approach might limit accessibility to eco-certification to farms with the resources to participate. In contrast, seafood recommendation programs decide what species, regions, and farming systems to assess and companies do not pay for assessment or auditing fees to participate. For example, Seafood Watch focuses on seafood sold in United States markets and does not provide ratings for Atlantic salmon grown in Australia, but there are several ASC-certified farms in Australia.
Seafood recommendation and eco-certification programs each have their own unique advantages in assessing aquaculture sustainability and supporting industry improvement stemming from their scale of assessment, inclusion of various types of sustainability criteria, accessibility, and ease of use in purchasing decisions on the part of consumers. Both types of sustainability programs require regular re-assessment of farming regions and farms to ensure ratings and certification continue to reflect changes within the industry and the environment – as illustrated by the recent changes to Seafood Watch ratings for Atlantic salmon.
Photo by Barnabas Davoti from Pexels