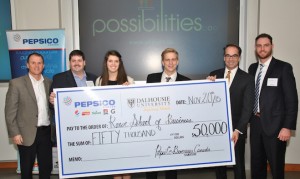 Dalhousie business students continue to strive for new heights beyond the classroom, resulting in fantastic performances at business competitions across the country and across disciplines. Meanwhile, employers such as PepsiCo are getting in on the case competition action – fostering the development of young talent by contributing their sponsorship to the Dalhousie Commerce Society's First Year Case Competition, which will now be known as the PepsiCo First Year Case Competition. Read more.
Here is a round-up of the most notable recent student achievements:
Jeux de Commerce Central: Academic Gold for Rowe team at JDCC Case Competition
"These students clearly demonstrated this weekend why they are the future leaders of business."
Queen's University Sports Industry Conference: Dal Students Knock It Out of the Park at Sports Industry Conference
"Being the campus ambassador, I had a lot of pride in knowing that Dalhousie had such a strong showing. I'm really proud of the people we brought."
IAFP National Student Competition: a presentation by three Dalhousie Commerce students at last year's symposium, inspired the Institute of Advanced Financial Planners to create a new competition for students to win the chance to present at the annual event.
Halifax Partnership's Pitch It Competition: Corporate Residency MBA student Sarah Deveau took home a win in the video pitch category.
The Great Canadian Sales Competition: Commerce student Molly Marcott and Management student Jonathan Gammon have been selected from 1,550 entries to advance to the finals in the competition, taking place later this week at the Google Office in Toronto.