We're proud to report that this winter our talented Rowe School of Business students have earned podium-level results at case and business skills competitions, and received special recognition for their achievements. Here's a roundup of the latest and greatest since the start of 2015:
Family Enterprise Case Competition
The Dal team, made up of 4th year BMgmt students Anna Baranowski,  Charcy Britten-Boudreau,  and Andrew Faircloth came in 2nd place, with Andrew Faircloth picking up the award for Best Undergraduate Presenter. The Rowe School of Business has been competing in the Family Enterprise Case Competition since its inception in 2013 and has improved its performance each year, finishing at fifth place in 2013, third in 2014, and now second in 2015.  Read more.
Denver Transportation Clubs Operation Stimulus Case Competition
Dal's Logistics team won first place thanks to students Lorena Maria Garcia de la Parra, Julia MacKey, Alexander Martin, and Benjamin Quinn. Dal's team has place in the finals four out of the five years they have attended this competition, coming in 3rd in 2013, and capturing first place in 2014.
The You're Hired Interview Competition
2015 marked the 10th anniversary for the Interview Competition which invites students from Dal and Saint Mary's University to compete. This year, 3rd year BMgmt student, Callahan Murphy won first place, and 2nd year BComm international student Pengpeng Jiang, snagged 2nd place. View the Facebook album from the competition finals.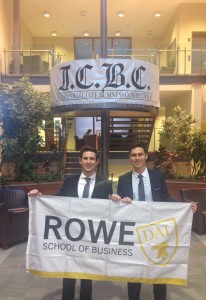 Inter-Collegiate Business Competition
This year's competition saw Dal's team, made up of BComm students Stephen Vincelli and Adrian Hutchenson, win 2nd place in the HR category. Hosted by Queens University, ICBC is the oldest and one of the most prestigious competitions in Canada. View full competition results.
JDC Central Case Competition
The team representing the Rowe School of Business brought home a total of 5 podium finishes: two 1st place, one 2nd place and two 3rd place:
1st place – overall charity
1st place – International Business
2nd place – Social Challenges
3rd place – Overall Academic
3rd place – School of the Year
Great Canadian Sales Competition
BMgmt student Katie Joyce advanced to the semi-finals (top 30 in Canada) of the Great Canadian Sales Competition with her one minute video pitch which received over 23,000 votes! Watch her video.
2015 Enactus Student Entrepreneur Provincial Championships
Carlisle Norwood, owner of Freshman Services, and Matthew Lee, owner of H2Oasis, were named Nova Scotia's 2015 Student Entrepreneur Provincial Champions. Provincial Champions coast to coast were named by this country's largest student leadership development organization, Enactus Canada, and proud program supporter, the John Dobson Foundation as part of the Student Entrepreneur National Competition.  Matthew Lee has advanced to represent our region at Nationals. Read more.
The JD Irving Case Competition
An internal third year accounting case competition. This year's winning team was made up of: Jenna Oosterholt, Adam Kelly, Corlyn Turner, Khadeem King, and Maddy Martin