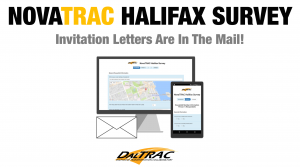 Invitation letters for the 2018 Nova Scotia Travel Activity (NovaTRAC) Halifax Survey are in the mail!
The survey will collect information about your household and household members' daily travel activities (when, where, why and how they travel) to inform planning and policy-making.
If you were selected or know someone who has been selected, please encourage them to complete the survey! Participation is entirely voluntary and information will be kept strictly confidential.