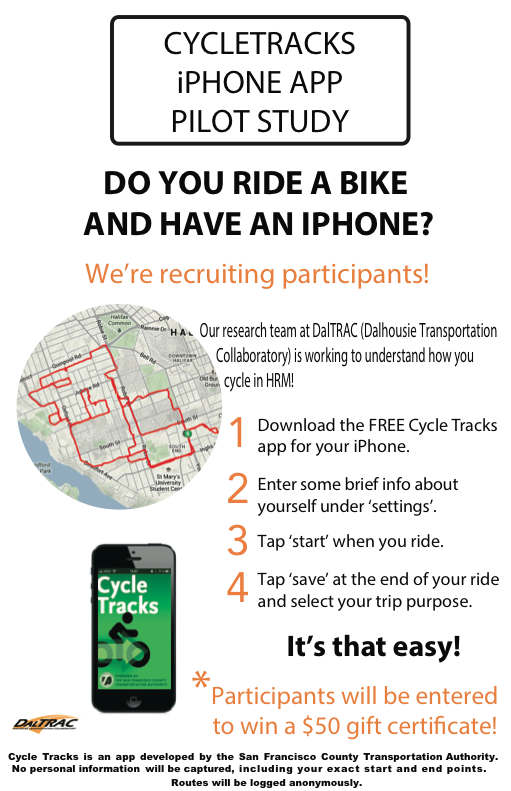 DalTRAC is experimenting with new ways of doing active transportation data collection by employing smartphone apps! Cities around the world are exploring the use of GPS-enabled smartphones to collect data on route choice, travel behaviour, potholes, and more! We will be doing a pilot study in the Halifax Regional Municipality using Cycletracks, a free app developed by the San Francisco County Transportation Authority. This will help us understand how cyclists move around with respect to trip purpose, gradients, road types, and much more.
Participants will enter to win a $50 gift certificate to Mountain Equipment Co-op!
Interested? Follow these steps:
1. Download Cycletracks. Currently, anyone who has an iPhone can download the app. Unfortunately, this app does not work on Androids in Canada.
2. Enter a few brief points about yourself under the 'settings' tab, such as your gender, and postal codes of your home and work.
3. Click "start" at the beginning of your ride, and "save" once you have reached your destination. We encourage you to do this for every ride that is done entirely by bicycle.
4. Select the type of ride. You will be prompted to choose from a variety of trip purposes, such as "commute" or "recreation".
If you have any questions, contact Niki Siabanis at nk603580@dal.ca
Happy riding!