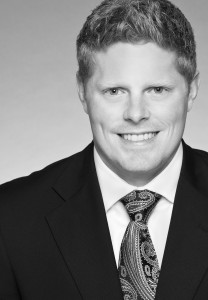 It is now the end of January, which means most Corporate Residency MBA students are finishing the first of eight months on their corporate residency. The ABC team caught up with one such student, Jason Reid, to discuss his thoughts so far on the job and in the program.
Jason grew up in Guelph, ON, and moved to Halifax in July to begin the CRMBA program at Dalhousie. He earned a BSc in Human Kinetics with a minor in Business Administration at the University of Guelph.

First off, where are you doing your residency?
I work at Nova Scotia Business Inc. (NSBI) as a Corporate Analyst. My office is located in downtown Halifax at the World Trade and Convention Centre. NSBI is a private sector–led business development agency for the province of Nova Scotia. Its purpose is to expand business activity in Nova Scotia.
When did you start?
I began my residency at the beginning of January and have been working there for four weeks now.
What is a typical day like so far?
As a co-lead of the Life Science and Clean Technology sectors I am responsible for scheduling meetings and developing a strategy and budget that will help each respective sector grow and improve within the province. I also do supporting work for the other teams at NSBI. Specifically, I help companies and our departments with strategic planning, which in turn will help the province grow economically. I meet with clients regularly and help determine their needs and objectives, and match them with ours.
What do you enjoy most about working for NSBI, or the corporate residency in general?
I enjoy meeting people and learning about the life science and clean technology industries here in the province. Some of the projects and people behind them are fascinating and a lot can be learned from them. Also, I am still doing some training and getting lots of support to get to the next level. My colleagues and managers are committed to helping me grow in terms of career and abilities.
What differentiates the residency from other jobs or co-ops is that I have been given high-level work right from the start. There is definitely lots of trust and responsibility involved. It's also great to work and network with C-Level executives and other high level managers of various companies.
What projects have you worked on so far?
There are several initiatives we are currently developing with the goal of expanding business in the province in each of the sectors. They involve multiple companies and industry partners and it will be very exciting to watch the sectors grow.
There are three major projects I have worked on so far. First, I wrote a report summarizing the renewable energy potential in NS to be circulated at Canadian embassies around the world. The purpose was to attract investment and promote Nova Scotia. Secondly, I worked with the VP of a vaccine company to help him get to clinical trials. Finally, I helped to plan and market the Nova Scotia representative part of an international trade show on life sciences.
What do you believe to be the most important skills or abilities for your job?
Research and strategic planning are among the skills that I use every day. It is important to utilize the ability to think big picture and across multiple provincial sectors in order to come up with the best possible solution while at the same time being able to focus on the specific details involved when working with an individual client.
How much of a pay increase have you received in comparison with your last job?
Compared to my previous job right out of undergrad, this residency position has increased my pay by 65%!
Do you have any words of advice for those starting their residencies in the future?
My advice would be to get involved with as many extra-curricular activities as you can. The MBA program runs a very interesting and informative Investment Club and gets involved in the community through various networking events and social activities. Participate in as many extras as you can without losing focus on your studies or your job.
What skills do you hope to gain from your residency?
I hope to learn how to manage multiple projects effectively as well as fine-tune my presentation skills and meet as many people in the industry as I can.
What is your ideal job?
My ideal job would be something that allows me to work on projects within the company, but also get outside and deal with clients. Ideally, it would be something that was in the life science industry so I could utilize both my science and business backgrounds.