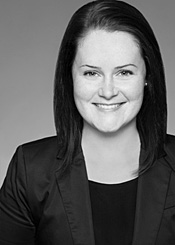 Becky Fiander and Chris McKenney recently competed in and won the RMA Credit Risk Case Competition in Halifax, along with fellow CRMBA students Jason Reid, and Mary-Eleanor Walker. Five of the top Canadian business schools sent teams, including Dalhousie's Rowe School of Business, Saint Mary's Sobey School of Business, Queen's University, U of T's Rotman School of Business, and Wilfrid Laurier's Laurier School of Business.
First, can you tell us about yourself?
Becky: My name is Becky Fiander and I'm from Liverpool, NS.  I completed my undergraduate degree at the University of King's College with a major in International Development and a minor in Journalism.  My hobbies generally revolve around food and fitness. I love to cook, try new restaurants and participate in wine tastings. I'm also a big fan of staying active (I'm a bit of an endorphin junkie), and right now I'm into spinning and boxing, with some running and badminton on the side. My next big trip will be to Barcelona, Spain, to do a 5-week, intensive Spanish immersion program. I decided to do that to solidify my Spanish as fluent (my third language altogether), as I will be returning to Scotiabank after graduation. They have operations all over the world, and my goal is to live and work internationally!
Chris: I grew up not far from Dal in Truro, Nova Scotia. I didn't go too far, doing my undergrad in Biology and Economics (double major) here at Dalhousie. My hobbies include climbing, hiking, waterskiing and, of course, beer and wings.
How did you guys decide to put together this team comprising first and second years?
Becky: Back in July 2012, I received an e-mail from our MBA Society President, Christie Lang, about this case competition that would take place the following February. At the time, I was completing my corporate residency at Scotiabank in Commercial Lending. The bones of this case competition were things that I saw every day at work, so I felt that it would be fun to spread that knowledge to a team. I had never done a case competition before, so this seemed like a good fit, and an experience I wanted to have before I graduated from the program.
The fact that the team had first years and second years was something completely random. After I received Christie's e-mail, I responded pretty enthusiastically, and was given the responsibility of getting the word out to the two cohorts, and possibly registering a couple of teams. After sending out the initial email, I received responses from both first and second year students. It all fell into place from there. I honestly believe that having such a diverse team, with different educational backgrounds and different strengths, was what made us such a strong team.
Chris: Becky and Mary-Eleanor had posted a team on the Facebook page for a risk competition. I was looking to put a few case competitions under my belt, so I signed up not really knowing too much about the competition or my team. It was a really great experience to work with some people who I probably wouldn't have ended up working with originally, simply because we didn't know each other very well or at all back in September.
Now tell us about the case; what did you have to do to prepare?
Becky: Since I had done my residency at Scotiabank, I had access to some great people with vast amounts of knowledge on the subject. As a result, to prepare, we looked at old cases from the competition and worked through them as a team. We met regularly, beginning in November 2012, and also had two meetings with two of my colleagues from Scotiabank. They were very helpful in giving feedback, suggestions and direction.
For this competition, it was laid out as follows:
Prepare a pre-selected case from a previous year (all teams received the same case), and put together a 15-minute presentation for a panel of judges. All teams received the case at the same time, and had plenty of time to prepare before the competition began. This presentation on Friday, February 22, would represent 25% of your team's overall score.
After Friday's presentation, all teams took part in a "quiz" to determine the presentation order for the following morning. The quiz was about credit risk, the financial world, as well as current knowledge. Funnily enough, our team came in last and became one of two teams that presented first the following morning.
On Saturday morning, our team received the case at 8:00am and had until 11:00am to prepare a 25-minute presentation about how we would address the issues in the case from the perspective of the bank. Start times were staggered (8am, 8:35am, 9:00am, 10:05am). We decided, going in, that we wouldn't spend too much time questioning each other's ideas or answers to the issues we saw in the case. We knew that everyone had their specific strengths, and we organized our attack based on those strengths. We worked together exceptionally well, and had a lot of fun doing it!
After our three-hour preparation time, we presented to a panel of judges, took questions and then sat down to wait for the announcement of the top four teams.
When we heard our team name called, we all got REALLY excited!!
We were promptly moved to a room to prepare for the crisis round. We were given a scenario that related to the case we prepared that day, and were told we had 10 minutes to prepare. We were very systematic with our approach – problem identification, decision, justification, who would present, and GO!
We presented our recommendation to the judges, fielded questions and then went back into the audience with butterflies in our stomachs.
Then…WE WON! BAM!
Chris: Like Becky said, the first round was a practice case. We were given a week to prepare for this, although being students we had finished it at midnight the night before (better than some teams from what I hear). We presented this case on Friday, and then went on to a lunch networking session, followed by a trivia quiz to determine time slots for the next day. I'm pleased to report Dal came in second to last and last (by no narrow margin), and so we got the early slots for Saturday, which worked well for us anyway. On Saturday we showed up at 7:30, had some breakfast and were given the case at 8:30 sharp.
We went through the steps as we had practiced on many previous cases and worked extremely well together as a team. I was impressed by everyone's ability to complete their tasks and not question or second-guess anyone else's. After presenting, we sat around waiting for results. I personally wasn't optimistic about making the finals (we had done a great job, but there were some impressive and intimidating teams there).
Once we were announced as a finalist, we were led to a room and handed a piece of paper. Once it was opened, the official started a stop watch, giving us 10 minutes to the second to analyze the problem, identify the components and come up with a solution to each. We then had 5 minutes to present. This was by far the most exciting part of the case. The four of us again worked well together to hit all the points. When presenting we did have a slight contradiction, however Becky did a fantastic job of covering this up and kept the presentation going.
Talk about that win and what it means for you personally, the team and Dalhousie's MBA program?
Becky:  While the cash prize is an absolutely fantastic bonus, I was honestly just concerned about making my corporate residency employer (Scotiabank), my parents and my school proud. As I said before, I will be going back to Scotiabank after graduation, so this win is an even bigger win for my career in credit with Scotia. It was also an amazing experience to work with Chris, Jason and Mary-Eleanor – everyone brought something unique to the table, and we all really showed up during the competition.
Team:  Our team was so excited, and thrilled, to have won the competition. We were a close-knit team and, as I said before, I think our strength was that we had individual attributes that meshed well together. We recognized that everyone on the team had value, and made sure that we all had the chance to demonstrate that value, and put it to good use. We also didn't take ourselves too seriously, because we all know that there's no place for ego on a winning team!
I am so excited for the Dalhousie Corporate Residency MBA program. I think this shows to everyone that we are on par with the best MBA schools in the country. Wins like this, great professor, and successful graduates will grow the CRMBA's great reputation in the future.
Chris: For me personally this was a big confidence boost. There were teams there with members from commercial and investment banking backgrounds. Beating those teams made me realize that the people I will compete against for a career are fallible and can be beaten. I think I can say that my teammates felt the same, with many other emotions as well. In addition, this was a fantastic networking opportunity, and a great way to show off the skill set that the MBA has provided us, much better than you can in an interview.
For Dalhousie, I think having two teams there who represented the program very well was a big deal. Showing the flag at these events demonstrates that we are a serious university, with some excellent talent to recruit! Having the win against top schools from across Canada was a really big deal to me, and I hope to Dal as well. While university programs are measured by dozens of metrics, I feel that having Dalhousie place in case competitions (which we have done a great job of so far this year, especially MBA Games!) is one of the best ways to demonstrate the quality of students coming from our school.
Can you speak to the overall experience and what you have learned/gained from it?
Becky: I had a really amazing experience doing this competition. I made some great contacts with prominent people in the business community, and there is a lot of value in growing your network. While I personally learned that a diverse team has a lot of value, that egos need to be checked at the door, and not to take oneself too seriously, I was told by a teammate that she was impressed by my ability to teach, and transfer my banking knowledge to the rest of the team. It's not something I really ever considered as one of my strengths, but is definitely something I enjoy and something that gave our team an edge.
Chris: Going in to this, Jason and I, especially, had little to no experience with commercial banking practices. We had to learn everything we touched in the competition (with great teachers such as Becky and Mary-Eleanor), as we went along. While there was a lot to take in, it wasn't too difficult given the background we had from the MBA so far. We also learned a great deal from practicing with the other Dal team as well as finance professor and mentor Rick Nason. The practice sessions with them gave us a great deal of insight, as well as a bit of a wakeup call to get serious! (They do a great job of presenting.)
The contacts we made over the course of this were excellent. I had a chance to run into an old friend from high school, get to know some competitors from across Canada, and forge some (hopefully) long-lasting relationships. In addition, we had an opportunity to meet judges who were leaders from all of the major banks, as well as major consultancy firms and government. These individuals all donated their time for the competition, and made an effort to get our information (it's usually the other way around), with some going to great lengths to create Linked-In groups from the competition.
What recommendations do you have for someone entering their first case competition?
Becky: Prepare!
Don't be afraid of having a diverse team, with a mixture of younger and older members.
Leave the ego at the door – it's all about team!
Have fun! Do your best, but remember that there is learning to be had if you come last, just the same as if you come first.
Chris: Don't be intimidated. This was my first live case, and while it was intimidating, doing well is very possible for anybody coming through Dalhousie. Half of our team had zero experience, and the other half had to spend time bringing us along, but through a bit of hard work and a very practical approach we managed to pull it off.  That brings me to the second piece of advice, which is KISS (Keep It Simple, Stupid). While complex analysis is a great tool, if you aren't careful you will end up missing the basics. We saw this on a few occasions. Make sure to address ALL the major points, find practical solutions and, if you have time, do something to differentiate yourself.
Overall, a great learning experience, good opportunity to network and a great résumé line. I strongly urge everybody to try and participate in a case at some point in their academic career. You will increase your employment prospects, have a great time and you might surprise yourself with the results!