What really stands out, and allows me to say confidently that applying to the Corporate Residency MBA program has been one of the best choices I've made, is the fact that I've developed so much on a personal level. Coming into the program I had minimal experience presenting, interviewing and networking. During my undergraduate degree I simply went to class, wrote exams and received my grades. There was very little personal or professional interaction. However, to be successful in business, soft skills are essential. It is often these skills that set you apart with your network to get you the job. Dal's unique CRMBA starts developing your personal skills from day one through networking events with employers, classes such as PPE (Personal and Professional Effectiveness) and many mock interviews.
Additionally, the group of people that I've been able to work and study with and ultimately call my friends is exceptional. Being from Halifax, I never expected to spend the amount of time I have with other students in the program. I imagined that I'd continue spending time with my regular friend base and occasionally see my classmates outside school. I was completely wrong. In only six months, I made some great friends. I still talk to most of them daily. Having these relationships really helps with succeeding in school, on the job and in life in general.
– Jordan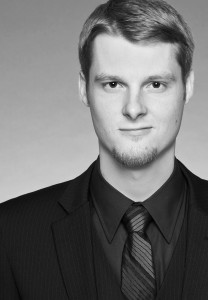 During my residency at GE Capital, I have had the opportunity to work and network with employees throughout the entire organization—those in entry level positions all the way up to C-level execs.  These employees, now my colleagues, have been instrumental in my professional growth. When meeting people for the first time, educational background is often one of the first topics to come up during introductions as it is instantly relatable. At GE there is a wide range of educational backgrounds, from undergrads to MBAs and CFAs.  During one such conversation I learned that someone had received an MBA from a local university. Wanting to learn and compare his experience to mine, I inquired about the difference he perceived between a business undergrad and MBA. He shrugged off the question and casually told me that it was "just another business degree".
This was not a response I had expected, as I too have an undergrad in business, and my experiences so far with the CRMBA program have been quite different. Not that I wasn't challenged before, because I was, but at this level of education you are held to a higher standard, and are expected to dig deeper into complex problems. The different business "silos" such as marketing, finance and government relations, often separated by classes in a business undergrad, are integrated as much as possible in the CRMBA program to make it as practical and useful as possible. To top it off, the pace is faster and the workload is heavier, so time management is essential. It is not an easy road by any means, however we also have a lot of fun, and are a tightly knit group that helps each other out. It is for these reasons that I was surprised by my colleague's comment.
The CRMBA program is a modern degree for a new type of young professional. The stories posted on this blog speak to the diversity of the students' backgrounds, and their reasons for choosing Dalhousie. For any prospective student reading this, the best way to find out about a program (or any type of organization) is by talking to its people. We have tried to bring their experiences to you through this blog, but we encourage you to reach out to students, faculty and alumni to really get a sense of what this program is about. This is definitely not "just another business degree".
This is the last blog of the season, and Jordan and I would like to thank everyone who offered to share their stories with us. Stay tuned for more in 2014!
– Evan